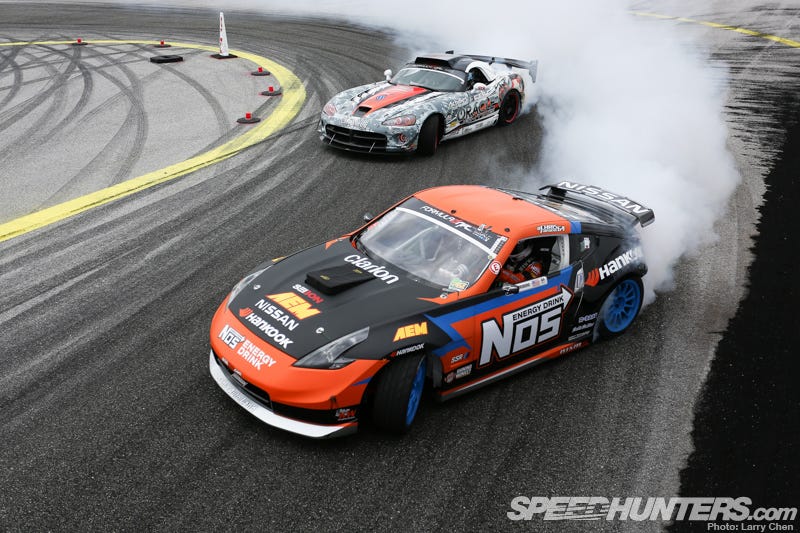 As you might have noted, I am an avid follower of Formula D. It's a very interesting series to watch, what with the entire goal of it being to see just how sideways you can get (or in the case of the chase car, just how sideways and close you can get). However, I have realized that there a good few here that have some objections against drifting, or in this case Formula Drift.
Most of you guys don't follow it. Some have no idea how it works. Others don't like the idea of any motorsport that's based around judging. Hell, there are even people who flat out think drifting should not be a motorsport. However, I'm willing to bet a lot of these people haven't seen a single drifting event. If you are one of those people, then I highly suggest taking some time out of your Friday or Saturday this week watch round 7 of Formula Drift Irwindale Speedway. For those who don't Irwindale is drifting's equivalent Spa in terms of how beloved and scariness, and is the final event of the season. This means your going to see a lot of no holds barred racing as well as a highly thrilling drivers championship conclude. Need more convincing? Well, read ahead.
Before I start this list, I should explain the rules a bit more. I know a lot people have no idea how the hell drifting works, how it's scored, why there are two cars on the same track yet their not racing, ect. To summarize the rules as neatly and quickly as I can, you are judged on your speed, angle, line, and overall style (how committed/hard you go). Line is very much dictated by the inner and outer clipping zones, which require you to get as close to as possible without going off track. Qualifying is top 32 and has two phases. First phase everyone qualifies and the top 16 highest scores instantly get in. Phase two has the remaining qualifiers fight out for spots 17-32, so even if you get the highest overall qualifying score during phase two your only qualified 17th.
Race day involves a 32 car bracket, with 1# qualifier vs 32# and so on. There are two cars on the track at the same time, one lead car and one chase car. The lead car tries to do the overall best run it can do, while the chase car has to follow the lead car wherever it goes. There are two runs, with higher qualifier being the lead car on the first one and the lower being lead car on the second. Both runs count in the end result, so if one of your runs ends up getting a zero (due from spinning out or getting two strikes from things like dropping wheels), then you're screwed. However if your opponent ends up getting a zero on one of their other runs or the two runs between the two are too close to call, then you will go into a 'One more time', which as you can imagine involves you two doing two more runs to settle the tie breaker.
Anyway, if your interested seeing more in depth rules, then check out FD's website. Anyway, enough rules, onto the tire smoke.
1: Competitiveness
By far the one of the most common complaints you hear about F1 is how we've gone from the Schumacher Era to the Vettel era. There's a legitimate chance he might mathematically lock up the WDC with four races to go, and he's pretty much won Red Bull the WCC. I'm not saying I don't like F1 (I watch the hell out of it), but you see the point I'm making. It's very common to see the same team/drivers win the WDC/WCC over and over again because of their technical experience or funding. But while other series have to use stuff like Balance of Performance to make things competitive, Formula D has had to deal with almost none of that. In the 9 previous seasons that have been run, there have 7 different champions. There are only two repeat champions in the history of the series, Tanner Foust (yes, the one TG US) and Samuel Hübinette. As one can imagine, costs also help keep the drifting field competitive. Yes, there are a lot of factory-supported teams, but just having a decent tuning shop behind you can mean you're competitive. This year alone has seen Michel Essa, who helps run tuning company GSR autosport, run an e46 M3 for the first time, get his first podium with a first place in Palm Beach, and just manage to take the lead from Chris Forsberg heading into the final round. Hell, just last race Patrick Mordaunt, a guy who barely gets himself into the top 32, some how managed to put pressure on 2010 champ Vaughn Gittin Jr and beat him, ending up in the final four. Really anything can happen.
2: The cars
In my opinion, this is one of the key factors of Formula D's appeal. Throughout the pass decades, we've seen touring, rally, and GT cars become less and less like their road going counterparts, and more like a spec series car that happens to have the shell of a road car. Not so in formula drift. Yes, a lot of these cars are heavily modified, but they definitely feel like a tuning shop has just heavily breathed them on rather just completely replaced the chassis. It turns out that's the case; you can use whatever engine you want, but there are strict rules on chassis modification (you can use aftermarket coilovers and shocks but you can't completely redo the frame) and the body has to relatively the same (body kits are allowed). So, what does this mean in the end? Complete awesomeness. You have fairly simple stuff, like S13 powered by an LS3. Maybe have a crowd funded LS1 Miata with Nitrous. Then you get to some of the more ridiculous stuff, like a 370Z with a VK56DE, the same engine Nissan uses to power LMP2 car. How about a 4 door E46 M3 or first gen Lexus GS? Not crazy enough? What about a Nascar powered Mustang? That's what I thought. I could go on, but any series that has a Nascar powered Mustang battling head to head against a beater E36 M3 has to score pretty high on the Jalop scale.
3: The drivers
Since drifting is such a young form of motorsport, the overall requirements for getting in haven't been the highest. That may sound like a dis, but it's not. It means that you don't have to be racing right out of the womb to get in. In the end you get a variety of people, coming from many different backgrounds. Some are driving instructors. Others of competitors are stunt drivers. A couple come from proper road racing backgrounds. Hell, there are even a few who started in rally. Whatever the case may be, it's easy to find a favorite driver. There is a ton of great personalities in Formula D, free to talk without the pressure sponsors watching their every move. From former crab broker Danny George to the fiery Texan Conrad Grunewald, or fan favorite and lady's choice Fredric Aasbø as well as the Mario Andretti of drifting himself, Daigo "the ninja" Saito, it's hard not to find someone you can root for in this series.
4: The smoke
Oh the glorious, glorious sign of shredded tire.
5: The action
This never gets old
If you read my summary of the rules you should have a good idea of what kind racing goes on in Formula D. Entertaining doesn't begin to describe it. The lead-chase driver formula works brilliantly. Having one totally different chassis, engine and driver combo having to play follow the leader with the lead driver does lead to some very interesting situations, especially if one car has a advantage over another in a sector. This is especially true with cars that have major HP differences. The low HP chase cars pretty much have to dive bomb into the next corner after a long sweep in order to maintain close proximity to the chase car. It's tense to say the least. Angle is also another factor that can lead to spectacular results. Drivers like Essa can constantly get near perpendicular with some clipping zones. Other's like Forest Wang (on a good day) can maintain close proximity with the chase car while constantly running right up against the inner clipping zone. To say it's mental is understating it.
As you can guess, I've only scratched the surface of why I like Formula Drift so much and why you should be watching it this Saturday. Qualifying starts 6:30 PM EST this Friday, with top 32 starting at Saturday 7:30 EST PM and top 16 11:00 PM EST. Streams are on Livestream here and here as well as on Dailymotion here (because Michael sure as hell isn't going to post the times and links in weekend Motorsports roundup). On I final note, I should say I'm a huge motorsport fanatic. I watch ALMS, Indycar, F1, GRC, and a ton of other stuff. I too didn't really get drifting or care much for it, but after following Formula Drift for a bit I love it. Compared to the buttoned down, spec racing of other series, it's a breath of fresh air. So if your staying up for the Japanese GP or just curious about drifting in general, I highly suggest you tune in on Friday and Saturday night. It might just spark your interest.
Time and links (for who scrolled down instantly to find the links but didn't look in the block of text)
Friday 6:30pm – 9:30pm – FD: Qualifying – All Drivers, Knock Out Format – Track
Saturday 7:30pm – 9:15pm – FD: MAIN COMPETITION – Round of 32 – Track
Saturday 11:00pm –1:00pm – FD: MAIN COMPETITION – Round of 16 to Finals – Track