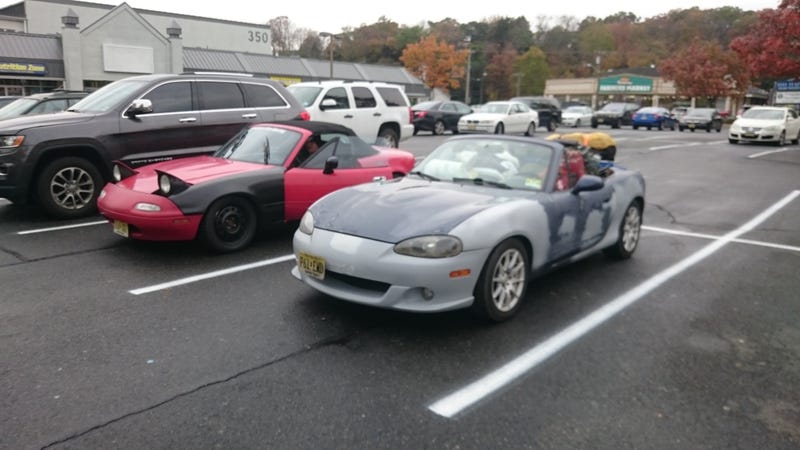 DAY 1 - Brick, NJ to Greenville, VA
Wednesday afternoon I finally got the car all packed up and got on the road. Since I didn't get to sleep until 3am the night prior, it was a real struggle to get out before noon. But anyways on the road I went, in a northward direction for a lunch with another Oppo! The purpose of this drive was also to test drive the Miata since I hadn't driven it at all for over a month. With the cobwebs out of the way, I headed West to i81 and then South. No issues were had and I arrived to my campsite for the night in Greenville, VA around 10pm. I cooked up a double cheeseburger and a can of soup and then crawled into my sleeping bag for a cozy night.
DAY 2 - Greenville, VA to Robbinsville, NC

The leaves! That was the theme of the day, just so much color. What perfect weather too. While the day prior was quite cold and a little rainy, Thursday turned out to be quite pleasant and got sunnier as the day went on. A perfect day for the Blue Ridge Parkway. It began with a crazy ride up VA-56 and then the BRP from 930am to 530pm, a long 8 hours to cover about 350 miles of the road. This included a quick lunch, a side trip to find gas in some middle of nowhere town, and getting stuck behind slow ass Toyotas. Mainly it was smooth sailing at 60-65 though which was quite pleasant.
Overall I have driven around 1100 miles thus far and have not had to add any fluids, nothing has broken, and I don't hate driving yet. It helped that today was a very fun day with perfect weather. But I think also the missing my car for a month has helped make this like a lovely reunion tour. Tomorrow is the Dragon and other fun roads near Deals Gap!
Bonus, met up with a friend who happened to move to Atlanta and was coming to Asheville for the weekend. He's got a Miata too because race car!