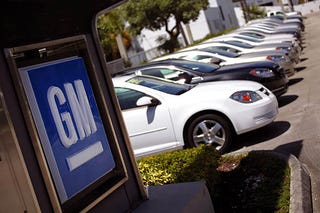 GM's recall woes have been widely talked about around here, namely the ignition switch issue. However, there have been over 10 million recalls from a variety of manufacturers that have been issued this year. Here is a summary of all of them, by manufacturer, since January 1st, 2014.
From largest to smallest:
GM – 10 Recalls; 6,314,893 vehicles
2,500,000 Cobalts from 2005-07, HHRs from 2006-11, Ions from 2003-10, Skys from 2007-10, Solstices from 2006-10, and G5s made from 2005-10 have ignition switches that can turn themselves off if there are too many keys on the key ring or if you drive on a bumpy road. This will turn off power steering, power brakes, and the airbags. This issue lead to at least 31 crashes and 13 deaths.
489,936 Silverados and Sierras from the 2014 model year and Tahoes and Yukons from the 2015 model year have a faulty transmission oil cooler line that needs to be replaced
174,046 Cruzes from 2013-2014 have right front axle shafts that could break in half while driving, causing the vehicle to lose power and stop. If the shaft breaks when the car parked and the parking brake is not on, the car could start moving.
1,300,000 Malibu Maxx wagons from 2004-06, HHRs from 2009-10, Cobalts from 2010, Auras from 2008-09, Ions from 2004-07, and G6s from 2005-09 can suddenly lose electric power steering, making the car hard to control at low speeds.
656 Cadillac ELRs from 2014 have issues with the stability control software, which could lead to an accident.
355 Regals, LaCrosses, Veranos, Enclaves, Malibus, Cruzes, Traverses, and Acadias from 2014 with automatic transmissions have a shift cable adjuster that may disengage from the shift lever, making the driver unable to change gear positions. Essentially, the car may not actually be in "Park" when you put it in park, which means your car may not be where you left it.
303,000 Express and Savana vans from 2009-14 need a complete overhaul of the material in the passenger instrument panel because it does not comply with a head-impact requirement for passengers that aren't wearing seatbelts.
63,900 XTS sedans from 2013-14 have a problem with the brake booster that could lead to corrosion of the electrical elements inside. This could cause a short, overheating, and fire.
1,180,000 Enclaves and Acadias from 2008-13, Traverses from 2009-1010 and Outlooks from 2008-2010 have a problem with the wiring harness for the side airbags which could lead to their failure to deploy during a crash.
303,000 Silverado and Sierra from 2014 had a possible fire risk due to a defect allowing the exhaust to overheat. Eight fires had been reported in conjunction with this risk.
UPDATE 4/9/14: Toyota – 6 Recalls; 3,426,067 Vehicles
1,670,000 RAV4, Corolla, Matrix/Vibe, Highlander, Tacoma and Camry models from 2004-2013 have been recalled because driver airbag cables may be damaged, causing the airbag to not deploy. Updated 4/9/14
670,000 Yaris and Scion XDs have because the driver's seat may not lock in place during an accident. Updated 4/9/14
119,000 Avalons from 2003-2004 could have the airbags or the seat belt pretensioners deploy unexpectedly and without warning due to electrical noise from other components.
7,067 Highlanders from 2014 have a third row seatbelt that may not be fully secured to its floor anchor.
260,000 RAV4s from 2012, Tacomas from 2012-13, and Lexus RX350s may have an electrical problem that could disable sporadically the stability control, ABS, and traction control.
700,000 Priuses from 2010-14 in the US have a software problem that could cause damage to the transistors, sending the car into a failsafe mode and potentially stop.
Nissan – 2 Recalls; 1,003,236 Vehicles
989,701 Altimas, Leafs, Pathfinders, Sentras, NV200 Taxis, and Infiniti JX35s, Q50s, and QX60s from 2013-2014 could fail to recognize someone in the passenger seat, preventing the airbag from deploying in a crash.
13,535 Frontiers from 2012-14 may have an circuit breaker that was incorrectly installed in a manner that could cause an electrical short between the wiring harness and a bolt on the A-pillar, resulting in a fire.
Honda – 3 Recalls; 904,018 Vehicles
9,816 Civics from 2014 may have tires incorrectly mounted, causing the tire to leak which could lead to an accident.
886,815 Odyssey minivans from 2005-10 have a fuel pump strainer that could deteriorate, which could leak and result in a fire.
7,387 Acura RLX from 2014 could have loose bolts attaching the rear lower control arms to the subframe.
Chrysler – 4 Recalls; 712,168 Vehicles
644,354 Grand Cherokees and Dodge Durangos from 2010 to 2013 have faulty brake boosters that corrode, allowing water inside. If the water freezes, the brakes won't work well.
43,450 Chargers from 2011-12 have headlights that could overheat.
18,700 Grand Cherokees and Durangos from 2012-13 have an issue with the Ready Alert Braking system where brake fluid was being overly restricted, leading to degraded pedal feel.
5,664 Ram Promasters from 2014 could have damage in one of the brake hoses, resulting in a leak of brake fluid.
Ford - 3 Recalls; 419,905 Vehicles
42,972 Fusions, Escapes, C-Max, and Lincoln MKZs from 2013 were recalled because seatback frames do not meet NHTSA standards, potentially increasing risk of injury in a crash.
349,000 Escapes from 2001-2004 were recalled because rust could cause the subframe to fail, leading to severely inhibited steering, which caused at least one crash.
27,933 Edges from 2012-2013 could have a faulty fuel line housing that could crack, potentially causing a leak, creating a fire risk.
Volkswagen – 1 Recall; 150,201 Vehicles
150,201 Passats from 2012-13 may have a headlight disconnect from the electrical contact if the hood is closed too hard or if driven over a bumpy road.
Mazda – 1 Recall; 42,000 Vehicles
42,000 Mazda6s from 2009 to 2011 are prone to having spiders weave webs in the evaporative canister vent hose, which could cause cracks to form in the fuel tank, and potentially cause a fire.
Tesla – 1 Recall; 29,222 Vehicles
29,222 Model S cars from 2013 received an update that prevented the charging outlet and cord from overheating and causing a fire.
Fiat – 1 Recall; 18,500 Vehicles
18,100 500Ls from 2014 have automatic transmissions that won't switch out of park, or shift into other gears in a smooth or timely manner.
Kia – 1 Recall; 11,961 Vehicles
11,961 Sportages from 2014 have the wrong tire pressures on the tire pressure information label.
Aston Martin – 1 Recall; 5,001 Vehicles
5,001 DB9s, V8 Vantages, DBSs, Rapides, Rapide, V12 Vantages and Virages built from 2008-2014 were recalled because the accelerator pedal arm could break, causing the engine to return to idle.
Land Rover – 1 Recall; 3,912 Vehicles
3,912 Range Rovers from 2013-14 had an issue where the supplemental restraint system connector could come disconnected, causing the passenger and driver side airbags to fail to deploy.
Mitsubishi – 1 Recall; 733 Vehicles
733 Outlander Sports from 2013 have an issue where the wiring in the driver's seat mounted airbag may be routed in such a way that it could be damaged if the driver adjusts his seat height.
Porsche – 1 Recall; 209 Vehicles
209 911 GT3s from 2014 have an issue where a piston connecting rod could come loose and damaging the crankcase. This causes oil to leak on hot components of the engine, leading to fire. Porsche told all 785 owners to stop driving their cars immediately, and are planning on putting a new engine in that should take care of the issue.
Jaguar – 1 Recall; 3 Vehicles
3 XF and XJs from the 2013 are missing the certification label
Graph above from 4/8/14 - Before Toyota issued their 2.34 million vehicle recall
Takeaways:
Last year automakers recalled 22 million cars. So far this year, we're at approximately 10,702,029 13,042,029 and we are only 4 months in. If we keep at this pace, we'll be pushing 30 million cars recalled this year. On the other hand, maybe everyone is airing out their dirty laundry while GM takes all the heat.
Speaking of GM, they have a lot of heat to take. They make up 59% of all the vehicles recalled. Toyota, with the second most cars recalled, is at only 10%. Furthermore, the breadth of cars that are recalled and the variety of problems they've had is staggering.
Chrysler is struggling at building brakes, apparently. Three of their four recalls involve brakes. Their fire hazard/trailer hitch issue has not become an official recall, but I wouldn't be surprised if it becomes one.
Mazda has the most entertaining recall, as it's all because of spiders. Jaguar's recall of 3 cars to put a sticker on gets an honorable mention.
Toyota put out two recalls the morning after I originally posted this for 2.34 million vehicles in the US. That's a huge recall, guys. Look at the graph below and see how that changes Toyota's slice of the pie.
What stands out to you the most about these recalls? Do you know of any others?
Statistics compiled from Kicking Tires. Top image from Carlos Barria/Reuters/File via the Christian Science Monitor
I love racing and cars. I talk about that a lot on Twitter. Feel free to follow me at@willkinton247. If you want me to look into a particular series or topic, or have any feedback, let me know!