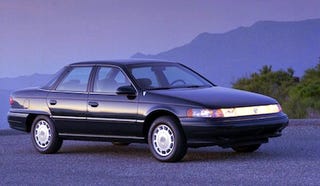 I've recently become a bit enamored with the lightbar front on the 1980s and 90s Mercury Sable. It's such a boring-looking car with such a wild set of lights. Being passed by one of these on the highway at night when they were new must have been awesome.

I was trying to research what other cars of the era had these lights, but searching for 'lightbar' leads to a lot of aftermarket products. I know you could get a similar setup on the 94-6 Pontiac grand prix, but besides that I'm not sure.
Does anyone know of any other factory-standard lightbars?