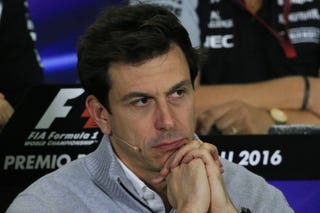 Q: (Joe Saward - Auto X) You're all looking so miserable I'm going to ask a question. I want an honest answer from all of you. If you could hire someone who's not one of your drivers right now, who would it be? To drive racing cars.
You've just committed Maurizio, so why don't you start with this one?
MA: Why me? I give you a hypothetical answer. The two drivers I have they are fine. And if I have to make a choice it is these two.
Claire?
CW: I would have Nigel Mansell and Juan Pablo Montoya.
Toto?
TW: I like Pascal Wehrlein, Valtteri Bottas, Esteban Ocon. I like Sebastian Vettel also. So a couple that are quite good...
Eric?
EB: Same answer as Maurizio. I'm happy with my drivers. I've got Stoffel on the wing as well. So, Stoffel.
TW: I like that one also!
EB: You can't!
MA: Go back to your motorhome afterwards!
EB: The driver market is now all over the place thanks to Toto.
Vijay?
VM: We are very happy with Nico and Checo. Both are signed for 2017. And really I haven't thought about it beyond that. In any case, we're pretty early, much earlier than normal. We used to wait almost to the onset of winter before we announced our driver line-up but this time we signed both for 2017 well in advance - and of course today's announce by Ferrari put to rest a lot of speculation that has been taking place in the last several weeks.
And finally David.
TW: Well if Toto, if either of his drivers jump ship we'll obviously take either of them.
From Autosport