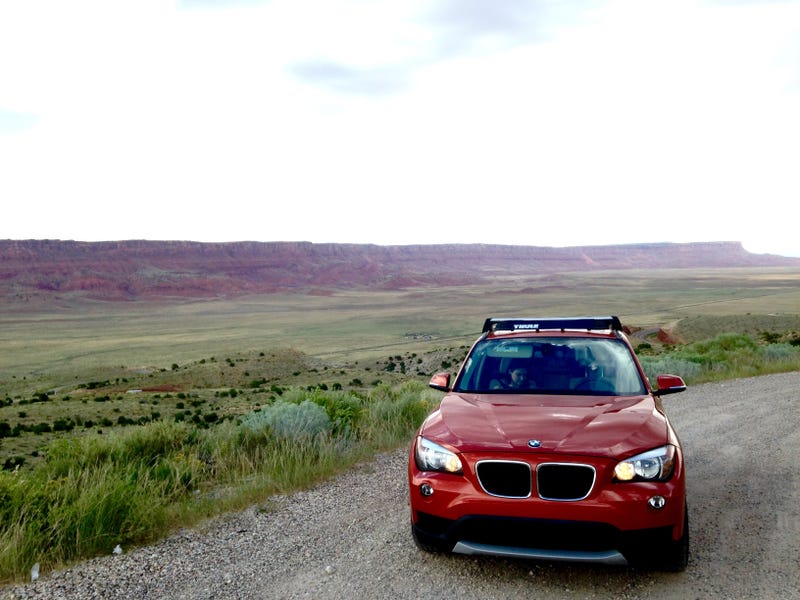 We decided to take this road trip on a whim. With the school year starting on Tuesday, it was an incredibly bad idea. But think of the intangibles. How often do you get the chance to see a full solar eclipse? Well, it turns out we get to see another one in seven years, so I guess the joke is on us. However, when I saw that the full eclipse was going to occur just north of Hoback, Wyoming, I knew we had to go. Hoback was recommended to me as a good spot to camp by one of our own when I was first planning out our big western road trip. Nestled at the base of the Teton Mountains, it sounded like an incredibly beautiful place. Unfortunately we weren't able to make it there during our trip, so this seemed like the perfect opportunity to explore this area. With two nights of camping planned, we headed out on Saturday afternoon with the hopes of making it to Hoback by Sunday evening. In order to save on fuel and time we decided to ride the bimmer north instead of galloping to Wyoming in the fuel sucking Jeep. An 1,800 mile poorly planned road trip seems like a much better idea when riding along in a modern BMW than a straight axled Jeep. This BMW has probably been on more trails than most Wranglers, and I had full confidence in its ability to get us to Jackson.
We headed up one of O&E's favorite highways, Arizona 89A, towards Lee's Ferry. Expecting to hit traffic heading towards the eclipse, we were pleasantly surprised to find we were one of the only cars on the road. With some clouds rolling in and the sun setting, we enjoyed the view as we headed into the Vermillion Cliffs. The silence of this place is amazing. Upon exiting your car, the only thing you can hear is the calming rush of the river. We headed down to her banks in order to cool off. There were a group of kids fishing and playing, their grandma sitting in a chair watching over them. This is one of the most peaceful places on earth.
We headed back to our site, scarfed down our butternut squash burritos, and hunkered down for a hot, windy night. We woke up bright and early the next morning and continued our trek north. We planned to cruise through Utah using a bit different route than last month and make it to Hoback before sunset. We made our way through Fredonia before stopping for coffee in Kanab. Kanab is one of the most charming towns I have ever visited. Most of the cafes were closed on Sunday morning, but we were able to find a fantastic little French cafe with a delicious egg sandwich. As I purchased some gasoline at the station next door I listened to an elderly couple talk church with the station attendant. The old woman complained about the morning's sermon while her husband looked on and laughed. These were my people.
As we wound through southern Utah, we made a pit stop at my daughters' favorite rock shop, then headed towards SLC. Fearing traffic near the big cities, we drove through Provo instead of SLC, and made our way up the 189, through an extremely beautiful mountain pass. We raced passed waterfalls, lakes and rivers, hundreds of people enjoying their Sunday in the cool waters below us. As we crossed over from the plains of Utah to the plains of Wyoming, "Beat My Guest" came on my Spotify playlist. Perfect. For those of you who didn't watch SLC Punk once a week during your adolescence, here's a quick primer (NSFW language).

The terrain became much more mountainous as we neared our final destination. I started noticing a slight vibration as we drove deeper into Wyoming. I had just had an alignment done the previous week, and the tires were in good shape when we left, so I figured we had just thrown a wheel weight. The vibration got worse as we neared Afton, WY, so I pulled over to have a look at the suspension. Shit. The rear tires were eating themselves. The rubber looked like it was melting. I didn't feel comfortable continuing on, so we stopped at the nearest hotel. It was a newer hotel with the rooms set up as stand alone cabins. The Kodiak Mountain Resort.
We figured if they had any rooms we'd be paying out the ass for them on account of the eclipse. Not only did they have a room, but they were extremely well priced. We were treated to a beautiful little cabin with a fireplace, big screen TV and full kitchen. This place was a godsend. The girl on duty called some people in order to help me out with the tires. Unfortunately the only tire shop in town was going to be closed for the eclipse, but the owner of the hotel offered to drive me up to Jackson so I could get some tires. He said he'd help me install them at the hotel. This town and it's people represent the old school values of the American West. When someone needs help, even a stranger who looks a lot different than yourself , you offer them everything you can. It's a harsh environment, and everyone relies on their neighbors for survival. It was a refreshing reminder of what it means to be an American.
I didn't want to put anybody out on what was a once in a lifetime event for someone living in rural Wyoming, so I decided to test the limit of my 50 mile Pirelli run flats and make the trek to Jackson on my own. There was a Big O Tires in Jackson, and they had one set of tires that would fit our car. I crawled along the highway, pulling over to let cars pass me as they raced toward the path of totality. After about thirty miles the tires really started to deteriorate. I pulled off the road and started driving on the tractor trail next to the highway. After fifty miles the tires began to completely come apart. As I crawled through the mountain passes, I prayed to whatever god I could that the tire would stay on the rim. Did I mention that I had to teach a chemistry, environmental science and AP Biology class the next day (fuck me) and that I definitely couldn't miss teaching them? The eclipse began about two hours into my journey. I began passing groups of people along the highway, all of them staring into the heavens. This was an extremely surreal experience.
After three hours, I finally made it to Jackson, Wyoming, with ten minutes left until totality. In the parking lot of the Big O Tires there was a Mexican restaurant. I went inside to ask where I could find some solar glasses, and was fairly surprised to find the lady manning the register spoke very little English. I had driven from Arizona to Wyoming to view a solar eclipse and was now speaking Spanish to lady at Tijuana Authentic Mexican Food. I had entered the twilight zone. At this point I wasn't sure if I was hallucinating or not. A fellow Mexican food enthusiast gave me an extra pair of shades, and I watched the full solar eclipse in a parking lot that was 50/50 Wyomingians and Mexicans. America at its finest. I ate a chimichanga (invented in Tucson, AZ) and drank a Modelo Negro while I waited for my tires to be swapped out. Unfortunately the Big O Tires in Jackson, Wyoming, only stocks the shittiest tire possible in 18". Fortunately, I got four tires out the door for about $500 ( they'll be burned up by January).

I drove back down to Afton to pick up my family (who hotel management let stay in the room hours past checkout) and headed back to Phoenix. I started free basing Red Bull, and was able to drive from Jackson to just outside Flagstaff. I slept for a bit as my wife took the reins just as the highways began to turn into a parking lot. A tractor trailer crossed the double yellows and made contact with a pickup truck. There appeared to be multiple fatalities as we crawled past the wreckage. This is the norm for rural highways in Indian country.
I've seen a lot of death on these roads. With renewed vigilance we continued our journey south back to Phoenix, winding through mountains, the sun beginning to rise on the horizon. Our orange steed had delivered us back home. I got a few hours of rest, shit, showered and shaved and began another school year, helping to mold another fresh batch of young minds.