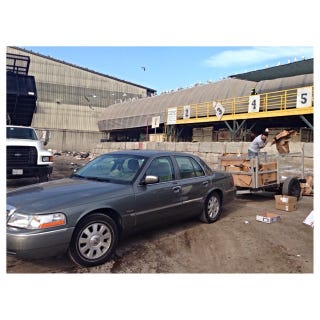 I was home last weekend helping out my dad. Ended up doing a lot of towing and trailering. Here are some pictures. I love my Grand Marquis and its ability to tow like a truck.
This is what 1000 lbs of lead look like. My dad scrapped his old sail boat and this came out of the keel.
More scrap metal. Made me $400.
Had to move one of the project cars out of the way
to make room for some racking
Nice little trip to the hazardous waste facility. I got scolded for having way more than their 125 lb load limit.
Dump run is always fun as well. Love just throwing stuff on the ground.