So yeah I'm back! I was on a thing called holiday and-Wait, What do you mean no one gives a shit?
Anyways I knew that Kinja can be a pain in the arse, but on mobile, it's feels like a fiery anal rash. Well, that's literally how I felt with all the spicy food I've been eating.
Anyways, I was in Vietnam for a bit, and these things are puttering around everywhere, especially as taxis. At first glance it looks like a frumpy, ill-proportioned MPV, and you'd be right, but it holds a secret.
It's uses the same ladder frame chassis as the HiLux pickup! Is this car the last holdout for a body-on-frame non-SUV/truck? The platform is known as the IMV platform or Innovative International Multi-purpose Vehicle, and some Toyota employee really doesn't know how acronyms work. Were they really crying out for another use for that platform? They already have a 7 seater SUV known as the Fortuner on the platform, a descendant of the original 4Runner.
Anyways, it's unusual arrangement is probably to help cope with harsher conditions of Asia, it's primary market. The fact it's based of the HiLux, means it's made a name for itself, especially in India, for it's bulletproof reliability, even among other Toyotas, kinda like the Land Cruiser.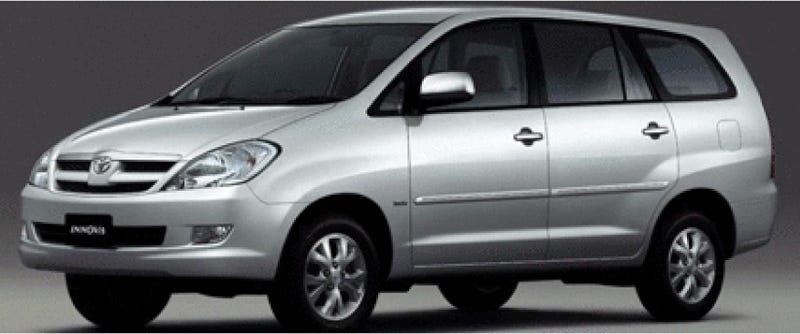 It's built in India (as the Innova Crysta), Vietnam, Indonesia (as the Kijang Innova), Malaysia and formerly Taiwan, it's primary markets. It's currently in it's second generation, while the first had a very healthy lifespan of 11 years.
Under the hood is a longitudinally mounted straight 4, either as a 2 or 2.7 litre petrol, or a 2.4 or 2.8 litre turbocharged diesel, all of which are available in it's HiLux brethren. If you take Top Gear Philippines Magazine's word, it's actually pretty fun to drive considering what it is, other than it's outdated 5 speed manual.
The person in the second hand left hand seat can...move the front passenger seat for extra legroom? Common in über luxurious cars, but this is a car for families!
Such disappointing colours! The only icon with a semblance of character is that lovely dark green icon, but instead it's like they were trying to have the shade with the least amount of green as possible.
And turns out I wasn't the only one wondering about it's offroad credentials.
Ouch.
So that's the Toyota Innova, the RWD body-on-frame people carrier, possibly the last holdout for a body on frame non-SUV/truck. And considering it's popularity, I'd like to think Toyota will keep that winning formula to come.
Wait, the BMW i3 and i8 are considered body-on-frame as well? Well, who would've known?