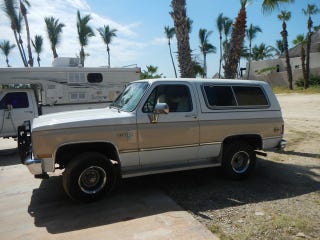 Anyone up for a theme day today? We've been a bit short on them lately. Let's see your off-road rigs, Oppo. Doesn't matter where you live, there's always places to go where the roads just won't take you. So whether you blast through the dunes, crawl up rock piles, slog over snowy logging roads, bump around desert trails, tear up rally stages, or roll door-handle deep through the swamp, show us what you do it in.
This is my '86 K5 Blazer. My dad and uncle bought it new as a birthday present for my Grandpa. My dad bought it back about ten years ago, I bought in as a partner about two years ago, and bought my dad out a few months ago.
It's bone stock except for a cattle guard and Hella lights. It's lived down in Mexico for the last ten years, where it's had tough duty hauling people and beer to various remote fishing and spearing spots around Southern Baja, serving as the beach party rig, and towing the boat, which is much too heavy for the truck.
It's starting to wear down a bit, so in a few months it gets to come back home to a life of relative leisure in California where I shall lovingly restore it and keep it forever. A better Mexico truck there never was.