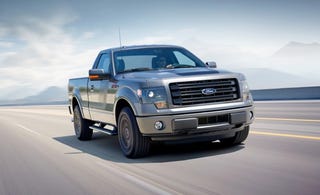 With news of Ford's failed attempt at an affordable race truck. I tried to find some short-bed single-cab trucks with similar power around Ford's original 27k price. I found candidates from both Chevy/GMC and Ram, or as found by Iscrx, even Ford themselves.
Chevy Silverado 1500 LT: $30,274
It's got the EcoTec 5.3 V8 with 355 hp/383 ft-lbs of torque. It looks pretty sporty with the 20 inch wheels and blue paint. The price could go down even further without the wheels or even dropping down to the WT2 or WT1 trim level.
Ram 1500 Express: $28,220
It's got the 5.7 Hemi making 395 hp/410 ft-lbs of torque. The Blue Streak paint looks really nice, and so do the 20 inch wheels; which come standard on Express models. And this price includes the optional 8-speed TorqueFlite transmission. The price could go even lower if you can live with all the black plastic on Tradesman models, which is one of the best deals when it comes to power for the price.
Addition: Ford F-150 STX: $30,105
It's got the 5.0 V8 making 360 hp/ 380 ft-lbs of Torque. Looking good with Blue Flame paint and 20 inch wheels, It comes in as a close competitor to the other two. Once again, you could go lower in price if you select the XL trim level, and you can get the 3.5 EcoBoost with the XL.
So, no matter which brand you choose, you can get something comparable to a Tremor for around the original price stated for the Tremor.