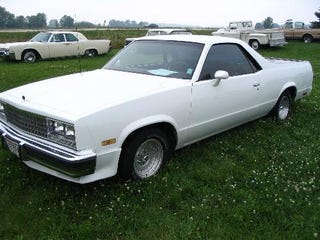 I played hookey from work on Friday and my dad and I went up to Carlisle for the Spring Swap Meet and Car Corral, and I fell in love all over again.
She was sitting there next to one of the restroom buildings, unloved and untouched. Hundreds walked past her but few stopped to gaze. But I did.
She sat there in her radiant glory, proclaiming her prowess to all who would read... A 1983 El Camino... 350 cubic inch LT1 swap... 5 speed conversion... 88k original miles. And suddenly, I could see myself with her... in her... cruising down the highway, windows down, wife beater tight against my skin, chest hair protruding from the top, while my mullet blows in the wind, curly locks flowing out the window and over her gracefully curved B pillar as White Snake blasts through the stereo, serenading us as we drive off into the sunset together.
And then I saw that the owner wanted $9500. CP.