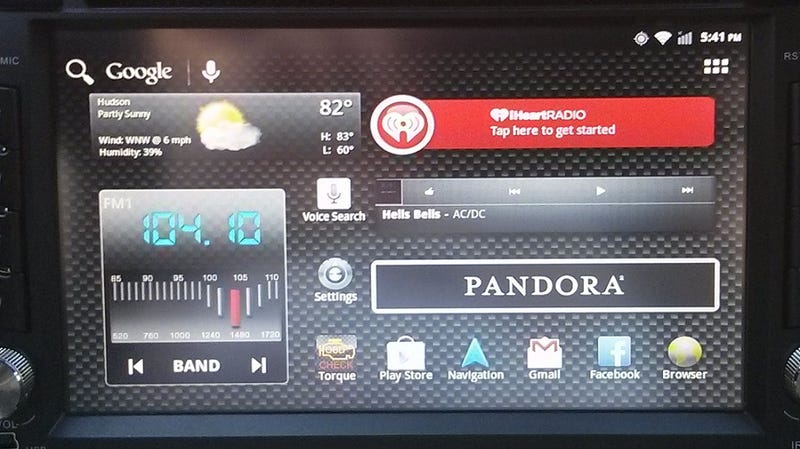 Cars with smart in-dash units are all the rage these days. The Tesla model S maybe the most famous with its large touchscreen controls that give you an enormous amount of information and entertainment at your fingertips. You too can have a rich entertainment experience in your car without having to go out and purchase the Tesla. All it takes is a bit of research and some wiring and you can be up and running in an afternoon and for less than $350.
Our first point of consideration when considering an upgrade is to verify that an aftermarket headunit can be fitted. OEM radios come in many different standards and sizes. A common standard used by manufacturers in the past is DIN 75490 which has two standard sizes. These head units generally conform to Single DIN (180x50mm) or Double DIN (180x100mm) sizes and are the easiest to upgrade. In most cases, vehicles with these standardized radios can be directly swapped with out adding additional trim. In the last few year, manufacturers have started integrating the radio with other pieces in the dash and using non standard sizes. In these cases the radio may be larger or smaller than the DIN standards and may not even be square.
If your factory radio uses a non-standard size, the first step is to check and see if there is an aftermarket installation kit available to conform your factory opening to the Double DIN standard. For this example, we will use the Toyota Highlander as it has an oddly shaped dash. If we search, we find out that Scosche makes kit no TA2089BRB
which adapts the factory radio opening to fit a double din deck. These pieces are inexpensive for the most part and are usually available from Scosche or Metra. Now that we have a way to mount the radio, we need to find out how to hook it up without damaging the factory wiring. In this case we go Metra and look at their 70-1761
harness which allows us to plug into the factory wiring of the car without cutting any wires.
Now that we know that we are able to fit the aftermarket head unit to the car with standard installation accessories we need to pick out our unit. We are going to go for a unit that runs Android natively and for our scenario we are going to use one direct from China as most of the bigger manufacturer have not released a clean Android unit at this time. The unit of choice comes marked with many names but it originated as the OUKU TH8581GA.
The OUKU unit can be found on Amazon
and eBay amongst other places and supports a wide array of features including:
DVD player
Bluetooth
GPS
iPod control
Wifi and 3G with Dongle
Subwoofer Output
USB Hubs
and the list goes on.
The unit has a 6.2 inch touch screen and a 16:9 display ratio for a nice clear display. For our use we are going to start by wiring the included harness to the Metra unit we bought. The colors on both are standardized and we can easily connect them, solder them and heat-shrink them. Once the unit is wired we will install into our Scosche Dash piece. At this point we will need to connect all of our external connections. We will run the GPS antenna from somewhere high in the vehicle and behind the dash so it can be connected to the radio. We will connect the vehicles radio antenna into the radio as well and use an adapter if it is a different size.
Our last connection will be a camera. The radio is not supplied with one but a backup camera unit can be found easily
for a low price. We will need to run the backup camera from the rear of the vehicle so that it reached to the back of the new head unit and we will also need to connect it to our reverse lights so it signals to turn on when we set the car in reverse.
Once everything is hooked up we can place it back into the dash and get started on it. Our first order of business after setting the clock and appearance options will be to purchase an OBD II Bluetooth adapter and plug it into the cars OBD II port. Once the adapter is connected to the unit via Bluetooth we can download the Torque Pro app from the Android Play Store. This app will allow us to monitor the vehicles performance live as well as check for any fault codes.
Now that we are all set up we can purchase an SD card and load it up with music and movies and use it on the built in port to listen and watch. We can also connect our phones and tablets via Bluetooth for hand-free calling and listening to music. You can also use almost any Android app that is available including apps like Waze and Google Maps. For internet connected apps you will need to tether your phone to the head unit. If you want to get advanced with the device you can root it just like any other Android device and customize it to your liking but as it comes and using the instructions above you get all of the following:
AM/FM/CD/MP3 Player
Bluetooth Streaming and Hands Free Calling
USB and SD External Connections
Vehicle Diagnostics and Live Data View
Backup Camera
GPS Navigation
Subwoofer Output
iPod/iPhone/iPad Connection
Use apps like Waze, Google Maps, Pandora, etc.
A tablet like interface in your dash
This can all be accomplished in one afternoon if you are mechanically inclined and have done any car audio installs in the past. In our example here the product and cost breakdown goes as follows:
OUKU Android Head Unit $289
Scosche TA2089BRB Dash Kit $13
Metra 70-1761 harness $5
iSaddle Bluetooth OBD2 Adapter $15
Torque Pro App $6
Esky Backup Camera $21
Total Estimated Cost $349
The instructions above will get you a smarter car with a richer entertainment experience at a low cost of entry. If your car cannot handle a double din unit there are also various pop out screen units that can be fitted for these cars. In most cases, you can find detailed info on manufacturer specific car forums.
---
Bozi is the founder of Hoonable.com and creates articles on everything from engine swaps to late model car restorations. You can follow him on Twitter and Facebook or drop him a line at Hoonable!