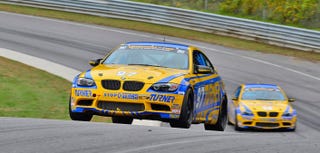 TURNER M3s "HOMECOMING" TO LIME ROCK PARK

The Turner Motorsport Grand Sport program gears up for round four of the IMSA Continental Tire Sports Car Challenge at their "home track", Lime Rock Park in Lakeville, CT. Turner returns to the seven turn, 1.50 mile historic road course with two blue and yellow GS class M3s prepared for some tough competition in front of the home crowd. Adding to the spirit of this weekend's homecoming, this is the first weekend Turner will race on Memorial Day weekend since 2011, a tradition born in Speed World Challenge dating back to the late nineties.

This year Michael Marsal and Tom Kimber-Smith will team up in the No. 97 GS class M3 for their second time together in a BMW at Lime Rock Park, their first appearance was last season in the Turner No. 93 GT class M3. The duo looks to improve on their last season's fifth place finish this year to keep their 2014 season point's streak alive. Marsal and Kimber-Smith enter this race holding onto the fifth place in the Championship point's standings, just six points out of the top three.

Michael Marsal said, "This is our home race and I'm motivated to win it in front of the home crowd, Tom (Kimber Smith) and I did some testing here last month and we feel confident with our BMW. Let's go racing!"

The Turner No. 96 GS M3 will also make its appearance at Lime Rock Park, the first time since the Fresh Florida 200 at Sebring this past March. Bill Auberlen will return behind the wheel of the Turner BMW to co-drive with team owner and driver Will Turner marking the duo's first-ever race together. Since Auberlen's first race and win with Turner Motorsport in 2001 at Lime Rock, Auberlen and Turner have yet to share a seat in a professional race start.

Turner's success at Lime Rock has been consistent with GS class wins in '06, '09, '10 and second place in 2011. Will Turner also finished second place in ST with co-driver Don Salama in '06.

Bill Auberlen Said, "I'm very excited to get back into a Turner BMW, especially for the team's home race at Lime Rock with Will (Turner). The atmosphere is always great at Lime Rock, it's always great to see all the Turner Motorsport support, especially when coming around turn 3 looking up to see all the blue and yellow up on the hill. It's always been one of my favorite tracks, I can't wait to see what Will and I can do."

In addition to the on track action at Lime Rock this weekend, Turner Motorsport will host the Austin Hatcher Foundation Charity Auction at the Team Transporter inside Big Bend at 12:00pm, Saturday May 24th. The Auction will feature various Turner Motorsport race memorabilia and hard-to-find-gear with all proceeds donated to the Austin Hatcher Foundation for pediatric cancer.

Also, the Turner BMWs will be racing in remembrance of a very special fand and friend , Kyle Markes, a local young man from Stamford, Connecticut. Kyle's Corner, a website built in Kyle's memory as a tribute to his battle against Acute Lymphoblastic Leukemia, helps to raise awareness in an effort to increase the number of registrants to the national bone marrow registry. Please help spread the word and join the National Bone Marrow Registry today. You can potentially save a life!



Stay connected. Follow us on Facebook & Twitter to get up to the minute updates from the race track.