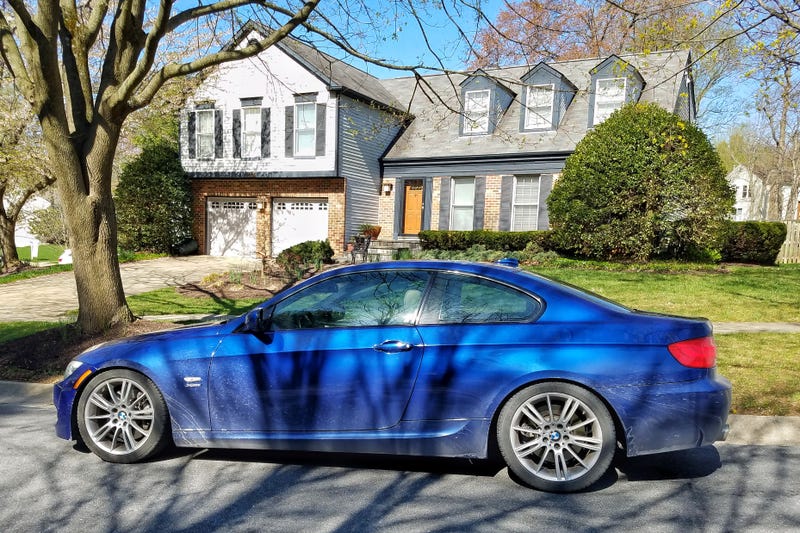 Yesterday I drove 850 miles from Madison, WI to my parents' house in Rockville, MD. Here's my car in front of their house, covered in road grime from the snow(!) in OH and PA. I filled the tank in Madison before I left, and needed to fill up ONCE along the way.

A few (maybe 10?) of these 857 miles were errands in Madison on my way home from filling up on Monday night. But I made it all the way to the middle of Ohio on that tank, and the gas light saying my second tank was getting low turned on about 10 miles out from my parents.
Maybe all my power-adding modifications, when cruising, turn into mileage-adding modifications. Either that or my Michelin Pilot Alpin PA4 snow tires which are still on the car because it snowed multiple times in Madison this week, and in Ohio and Pennsylvania on my drive, are super low rolling resistance like Prius tires. Or my lowered ride height makes mad tyte aerodynamic efficiency improvements.
All told with assorted stops and occasional slowdowns my average speed on the trip computer was a hair under 68 mph, but most of the time I was cruising closer to 75-80.
Road quality rankings from the trip:
1. Maryland
2. Pennsylvania
3. Wisconsin / Illinois / Ohio (tie)
6. Indiana
It's kind of weird driving my own car around Rockville. Whenever I've visited I've always flown and rented a car. The last time I had my own car here was 2004 when I spent a summer home from college selling Toyotas, and I bought my now-former Miata.
Today, I filled up my car, washed it, visited my grandma, had lunch with my mom, and viewed and signed the lease on the townhouse I'm renting in Rockville.

I'm hopping a flight back to Madison, where I'm going to help my wife finish packing for the next week and change.

We have local movers helping us load a U-Haul. We're going to tow her car with it, and put our 3 cats in the cab in their carriers. Once we get to MD with the U-Haul, we'll stay a night at my parents, then the next day have some local movers unload the U-Haul at our new place, then transfer the cats from my folks to our place.
Or something like that. Who knows? But what I do know is, DAT MPG THO.