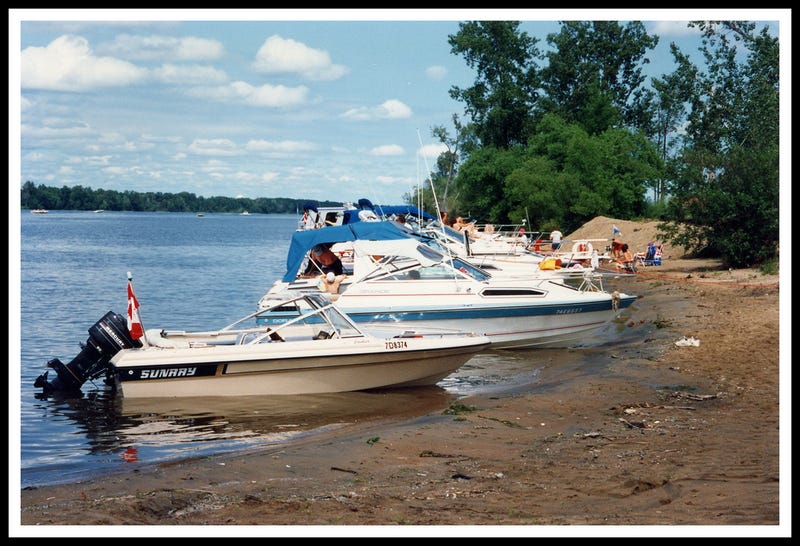 My family picked up a cottage property in the late 90's, and the best part about it was that it came with a boat. I was 11 years old at the time, but that didn't stop me from doing a local boating course to obtain my "Pleasure craft operators card" just coming into effect in Ontario. The boat was a mid-late 80's Sunray Cavalier bowrider like the one in the foreground (but not that exact one). It leaned heavily into turns and sat so low in the water that it became a dangerous operation to pick up skiers with anyone in the front.
It was powered by a crappy 70 hp Johnson Seahorse of similar vintage to the one on the left. That thing sputtered on start up, and a few years in we realized the cooling "pee stream" wasn't actually operating so it's surprising it didn't melt before that.
The boat had 2 20L fuel tanks you could switch between so once in a while the boat would surge forward then die, at which point I had to crawl to the back, switch the tanks and squeeze the fuel bulb for a few seconds.
Eventually my dad decided to save some money by not properly winterizing it and storing it behind the building, which meant that during the following spring it didn't even get into the water while the marina "waited for a part". We decided to sell it that fall at a local "buyer beware" auction, but not before leaving the plug out while moving it between trailers and getting water up to the seats. I think pulling it out of the water caused our Pontiac Transport's diff or transmission to spit black fluid all over the gelcoat...
Fortunately we've moved on and I couldn't be happier.