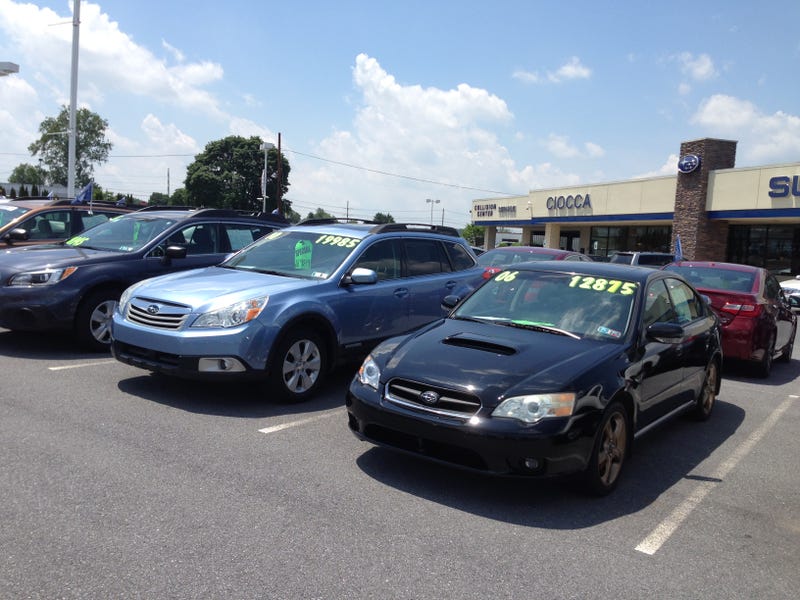 During today's stop at my local Subaru dealer, I happened to find some interesting vehicles in the used lot. Two of them are a bit rare; unicorns, you might say. The first one is pretty obvious.

The performance oriented Legacy GT Limited was not the primary seller of the fourth generation Legacy lineup. Especially so with the 5-speed manual. Although I cannot seem to find production numbers for 2006, only 1,912 Legacy GT Limited sedans with the 5-speed manual were sold in 2005.

This Obsidian Black Pearl Legacy GT looks like it has had an interesting past (like a lot of the LGTs). The painted wheels are a big tip-off. So is the foggy driver's side headlight (the passenger side headlight is crystal clear.) It does have ~122,000 miles, which seems to be on the low side for these.

This other unicorn is a bit less obvious. This 2010 Outback 2.5i Premium features a somewhat rare color, Sky Blue Metallic. Sky Blue Metallic was offered on several models between 2010 and 2012, and was never really popular (at least in Pennsylvania). I believe I've seen 2 or 3 Subarus in Sky Blue Metallic out on the road since the color was introduced.

The rarest part is had to see in this picture, but this Outback has a 6-speed manual transmission.

I don't have solid numbers, but out of the 2,288 2010-2014 Outback 2.5i Premiums listed for sale on Autotrader, only 88 have the 6-speed manual transmission. Only one is Sky Blue Metallic (this one).
(Bonus Sky Blue Metallic 2012 Forester 2.5X, something else rare I didn't expect to see today)
While I like the LGT a lot, unintentional unicorns like this Outback are some of my favorite vehicles on the road. I'll be looking forward to seeing how many I may see in the years to come.