About a month ago I got my first motorcycle, a Buell Blast. I've been working on just getting some seat time riding it on the weekends and commuting to work on it about 3 days a week since I bought it. I racked up about 800 miles so I figured it was time for an adventure! So my roommate and I decided to ride from Cincinnati to Nashville for a weekend trip.
The plan was to hop on the interstate and drive straight to Nashville on Friday afternoon, then take fun twisty backroads all the way back over two days spending the night in Louisville, KY.
But first, Preparations!
In preparation for my first motorcycle road trip I made a few changes to the bike. The Blast had two different seats available for it from the factory, a regular saddle and a low saddle for really short people. My blast came with the low saddle and even though I have something like a 29 or 30 inch in-seem it was kinda cramped. The shape and lack of foam also made this seat pretty uncomfortable for long rides. So I snagged a regular saddle off ebay for about $35 and it made things much much better. I also was rigged up the old windshield off my buddy's Vulcan so my chest didn't have to act like a sail for so many hours on the road.
For luggage I picked up a Firstgear Torrent 20L waterproof backpack. I've been using this for my commute and it's a great waterproof back at a great price. It had plenty of room for everything I needed for a 3 day trip. I kept it bungee'd to the passenger seat and if I picked up anything larger to bring back with me I could wear the bag and strap that to the seat.
Besides that it was simply basic stuff, like checking oil, tire pressure, brake fluid, etc.
Day 1: Hit the road!
Friday came I was itching to get the hell away from work and get on the road. Thankfully my manager rides too so he didn't mind me slipping out a few hours early to go on a motorcycle trip. I rushed home, finished packing, and loaded everything on the bike....and then had to wait for an hour or two because my roommate's girlfriend was late....
Eventually we got on the highway and after some traffic on I-71 in Covington, KY we were up to speed and cruising! The Buell can go about 150 miles per tank but we stopped about every 100 miles or so for gas and to take a break. This worked out to one stop outside of Louisville and one more stop near Bowling Green before the final push to Nashville.
Somewhere near Nashville, I notice my bike had gotten louder. At first I thought I was hearing my roommate's bike, but then I realized it was the Blast. Usually I struggle to hear the engine over the wind noise at highway speeds, especially with the earplugs I had in, but I could clearly hear the thumper now. Once we arrived in Nashville I found the reason. A large hole had formed in the muffler about the size of a golfball probably from a combo of rust and fatigue. On the plus side, it gave the bike some balls, but it's borderline obnoxiously loud now. Besides that the bike ran great and we made it Nashville in one piece.
We stopped by a bar downtown to get some food and a beer. It was a fancy craft brew, but it could have been a Bud light because after that much time in the saddle that beer tasted soooo good. We asked the bartender to switch one of the tv's to the Red's game and she came back a moment later to ask what sport is that.....So I had clarify that we were looking for the Cincinnati Red's baseball game. I've been in Cincy a few years now so I forgot that most people in the south don't really care about baseball, oh well.
We were pretty tired so we decided to call it a night and go to the hotel. The hotel conveniently had a Hooter's right next to it. The decision to call it a night was postponed. Now, I'm not really a fan of the restaurant, but it was walking distance so we sauntered over and many beers and a shot or two were ordered. After a while we were, to put it eloquently, ham-sauced. Apparently we were a little too loud and rowdy for this fine establishment so we were asked to leave. I can now add, getting kicked out of a Hooter's, to my life accomplishments.
Day 2: Boots and Corvettes!
We spent the next day downtown doing typical touristy stuff like buying cowboy boots, listening to live music, and day-drinking
I might have a crush on the fiddle player.

We eventually decided to hit the road since I wanted to go see the National Corvette Museum in Bowling Green on the way back.
Living the Dream...something like that.
Shiny new C7's!
Widebody Stingray is best Stingray
The oh so classy C1
Super slick Aero-vette!
The victims of the sinkhole. Many man-tears were shed.
There poor vettes have seen better days.
A C4 with a V12!
Much to my surprise you can get married here!
Once I finished creepin on the happy corvette couple's special day we got back on the road and booked it to Louisville!
After checking into the hotel, we got dinner and drinks again. The little dive we stopped at had this stuffed rooster with a sign on it that said "blocked" I got a good chuckle out of that.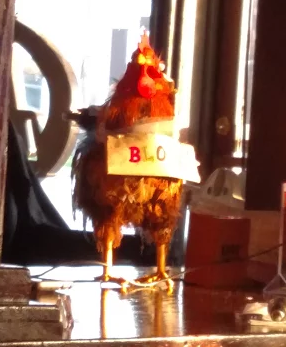 Most of the other patrons of the bar were betting on horse races. It was actually more exciting to watch the gamblers than it was the actual race. They were betting cash, shots, or whatever else they had on them at the time.
We went back to the hotel for a while and debated on whether or not we should go out downtown. I was tired, but I wanted to do more than just sit at a hotel for the one night we were in Louisville. My buddy was getting tired and cranky, but after a few beers and a little coaxing from his girlfriend we agreed to check things out.
So we headed down to Stevie Ray's Blues Bar! Pretty chill place with good music and I was definitely the youngest person there. So I set out to the dance floor which was a veritable Cougar den. I made it out with only minor scratches and injuries.
Day 3: The path less traveled
The final day of the trip was the best riding day. We rode from Louisville to Cincinnati all on some super fun twisty backroads. Mostly highway 42 with a pitstop for lunch at cool little place on the river in Warsaw. My roommate on his big cruiser and with a passenger was taking the turns much slower than I wanted to in my nimble little blast, but it was probably for the best since I don't have tons of experience yet.
The weather was great for the whole trip until we crossed the river back into Cincinnati. Just a few miles from home a nasty thunderstorm popped up and we got a little wet. It was a little scary for a bit since there was some flash flooding and a lot of deep puddles so I was afraid of hydroplaning, but I took it easy and slow and finally made it home in one piece! During the rain a piece of the shifter lever fell off. This did not help the situation at all.
There's enough of a nub that I was still able to shift ok, but I had plenty of other things to pay attention to at the moment.
Once I got home it was pretty easy to fix with an extra bolt and a piece of fuel line! Not perfect, but it'll do for now.
I survived my first motorcycle road trip and had a fantastic time. Besides the shifter and exhaust issues, the Blast was a great little companion. For cruising on the interstate, I'd prefer a bigger more comfy bike, but I was much happier on the Blast in the twisty stuff.
I want to do more road trips now that avoid the highway. Yeah you can get there faster, but that defeats the point of doing it on 2 wheels.