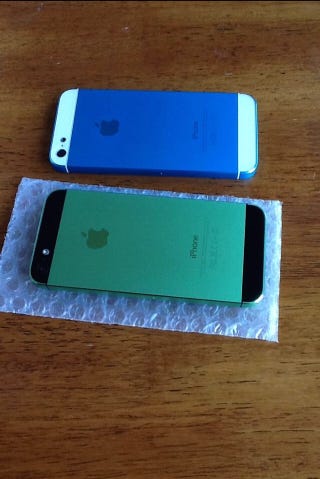 One of the most interesting things about my relationship with Miss Tesla was her pushing me deeper into the world of Google. I was already a fan of Android, but I had really only used Androids for modding purposes. I had no intention on going Android as a daily phone, but as time wore on I wanted to give it a go. Two years after making that dive, I want to go back to Apple for daily driving.

First, what phones did I have through this time? Here are those phones, in order, their software, and their current status:
Samsung Galaxy S III Mini - Heavily modded stock rom - In my purse as a MP3 player.
LG Nexus 5X - Cyanogenmod 13 when I was using it, it now has stock Nougat - Given to Miss Tesla.
Samsung Galaxy S7 (the first Android I regret selling) - Stock rom - Sold on eBay. I sold two more S7s some months later on eBay.
Huawei Nexus 6P (the worst phone I've ever owned) - Cyanogenmod 13 - Sold on eBay with stock Nougat.
Droid Mini (Possibly the most impressive of the bunch) - Heavily modded stock rom - Retired to my smartphone repository.
Honor 8 (In blue it's my favourite phone design of all time) - Stock rom - Never used, was on display with the next phone before I moved.
Nextbit Robin (Nexus 5X in a cute dress) - Lightly modded stock rom - Used for a couple months before I put it on display with the Honor 8.
Honor 5X (One of the best phones under $200) - Resurrection Remix rom - Current daily phone, may have sustained significant water damage this morning, perhaps requiring its future retirement.
So, why am I going back to Apple? Clearly I love Android!
A few things. I've yet to actually find a rom that offers the stability I enjoyed with iOS. Stock Android is great, but even it has issues. I'm talking stupid bugs like not being able to turn off my flashlight without turning off the phone, apps that won't open from the lockscreen, warped wallpapers, infuriating bluetooth, excessive battery drain, and so on. For example, at least half of my Androids often (including one of the S7s) refused to connect to any PC lest I get this error:


But that's no big deal. I'm talented in fixing these phones. I can bring almost any phone back from the dead and squash bugs. Though, sometimes I just want a phone that works. That was my iPhone.
Unfortunately it looks like the Honor 5X is suffering from a hardware fault, so I'm stuck.
Custom roms and manufacturer skins do fix a lot of this. The Galaxy S7 was the most stable and enjoyable Android I've ever owned. For TouchWiz's faults, it actually fixed quite a few of the bugs stock Android has and doesn't use an interface that to me looks dated for 2017.
That said, I've used dozens of custom roms, and they have a rather silly problem. Once you've used Cyanogenmod/LineageOS, CosmicOS, or Resurrection Remix, you've basically used every other rom. Almost all other roms by smaller devs have the same groundwork and similar features as the big popular roms. As such, I haven't been wowed by a rom in a long time, and I've been installing roms left and right looking for one that'll blow me away.
My favourite rom for Android is actually EMUI that you'll find in Honor and Huawei phones. With a few minor tweaks (Nova Launcher, mainly) you get a skinning of Android that feels fresh and new... Believe it or not but EMUI was the first rom in a long time to actually blow me away. If only it weren't more buggy and battery consuming than standard Android.
But in the end though, the problem I have most is that I really really miss my old iPhone 6. Of all the phones I've owned, not even the Galaxy S7's raw power, jaw dropping screen, and stability or the Honor 8's stunning looks make me miss a phone as much as I miss my iPhone 6. And it sucks, because if I were to get another 6, I'd want my old 6 back or a new 6, not someone else's.

Doing some tests on my Honor 5X, it looks like the USB port is biting the dust due to running in the rain with the phone in my hand this morning. It can still charge, just not transfer data. Thankfully all the truly important stuff was taken off the phone before the move. I'll retire the Honor, then use one of the other phones for now.

But, I think the next phone I'll buy will for certain be an iPhone. It would have a companion Android with all my hacked apps on it, just like things used to be.
ETA: Not sure why when I hit Publish Kinja decides to add extra letters to words or combines words. Fixed!