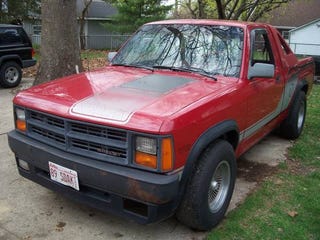 So, this truck has popped up on Oppo a few times now. I guess the guy is now parting it out now per the final paragraph in his ad.
I TRIED TO HAVE SOMEONE SAVE THIS TRUCK FOR 6 MONTHS BY OFFERING IT AT A FAIR PRICE. I HAVE GIVEN UP - THIS IS GOING TO BE PARTED OUT AND SCRAPPED. IT'S SAD - I STARTED IT UP AND DROVE IT AROUND THE YARD BEFORE PULLING IT INTO THE GARAGE. I WILL BE SELLING ALL OF THE PARTS WHEN I GET AROUND TO IT. DON'T EXPECT ANY GARAGE SALE "STEALS" - I'VE OWNED THIS TRUCK FOR 21 YEARS AND KNOW WHAT THE SHELBY PARTS GO FOR . . . LET'S JUST SAY I'M EXTREMELY DISAPPOINTED THIS TRUCK CAN'T BE SAVED . . . .

I love these "it's all someone else's fault" that I had to do this ads. Seriously?
Best part of the ad and likely why nobody bought the thing..
The price is $2800 OBO - please don't bother me with low-ball offers, certified check scams, or offers to sell it for me. I can probably sell the Shelby wheels, front spoiler, light bar, interior parts, computer, etc. for close to that and still sell the drivetrain and body parts for more if I want to. I would rather have someone fix it up and drive it rather than part it out that way.

Sorry pal. It just doesn't work that way with a very limited appeal ride.
Good luck!