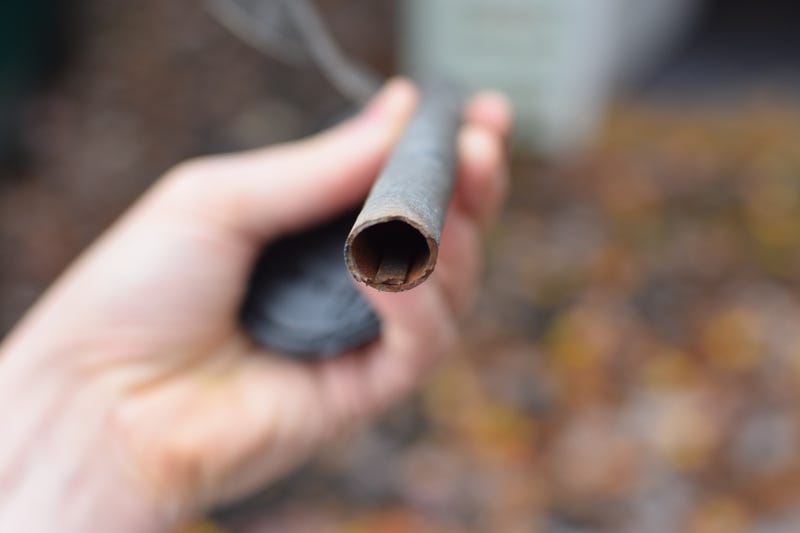 That is part of my transmission dipstick and dipstick tube. I've no idea how this happened.
The last time I changed the oil, I checked around the transmission and there was fluid dripping from the torque converter. I'm not terribly confident that the appropriate amount of fluid is remaining.
First thing was to remove what was left of the dipstick. I was just barely able to grab it with these pliers. They've proved helpful twice now.
Removed:
I'm just going to mend the existing tube since it's a banjo bolt holding the tube on to the pan and I don't feel up to a filter change.
First attempt at mending tube:
"I'm so cle... shit, that's the exhaust manifold next to it." Maybe something that doesn't have cheese like qualities would be better. Who knows when you might need a short piece of tubing and hose clamps. In the tool box in my trunk they go.
Second attempt:
1/2" copper coupling fit perfectly. Then I used some flue tape to keep it in place.
It could look nicer. It could also look worse.
New(used) dipstick:
Ehhhh, let's clean that first. Evapo-Rust to the rescue.
Worked really well the last time I used it. Since this stuff isn't particularly cheap I had to think of a way to soak the dipstick without needing to fill a bathtub.
Grabbed a piece of 1/2" pex tubing and cut it to be slightly longer than dipstick.
Put a push-on cap on one end.
Then taped it to a rusty metal shelf I have outside.
Then let it sit for a few hours.
Gus waits patiently...
A few hours later. Not bad.
All back together and after a short trip I checked the fluid. Surprisingly the level is fine and the fluid appears to be mostly red.