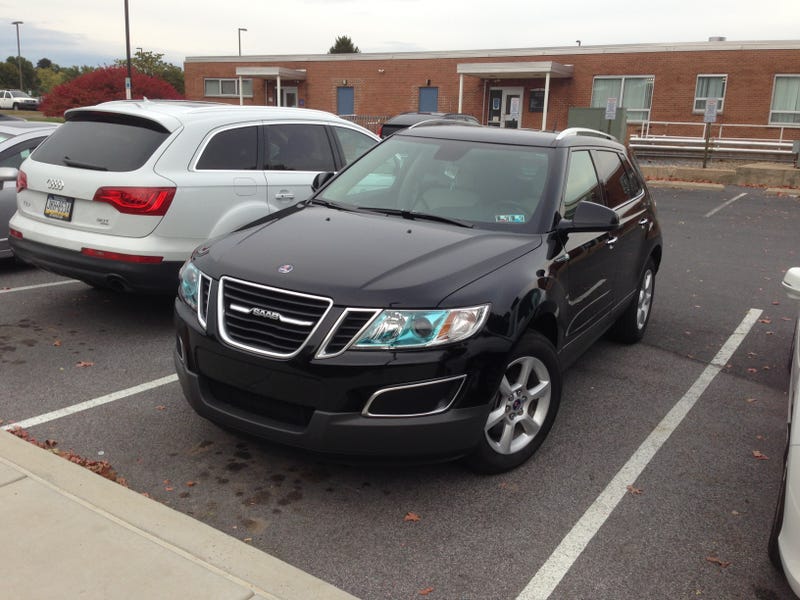 This parking lot has been great for spotting rare and unusual cars. Last month, I found a 1992 Geo Storm. Today, I found another rare vehicle, also produced under the watch of General Motors: the 2011 Saab 9-4X. Only 457 units were produced.
Produced for only the 2011 model year, the 9-4X was billed as a replacement for the GMT360 based 9-7X. The 9-4X was not originally intended as a replacement for the 9-7X. In fact, that role was to be filled by the Saab 9-6X. The 9-6X was a Subaru Tribeca with tweaked sheet metal, similar to the 9-2X and the Subaru Impreza. However, General Motors sold their stake in Subaru in 2005, ending the partnership between Saab and Subaru. Saab would continue with the 9-7X until 2009, while Subaru took the already designed 9-6X body and used it for the 2008 Tribeca refresh.
Still needing a replacement for the 9-7X, the 9-4X was devised. The result was basically a re-skinned second generation Cadillac SRX. Mechanically, everything was carried over from the SRX. Only the interior and exterior styling differed. Both were built in Ramos Arizpe, Mexico, making the 9-4X the first and only Mexican built Saab.
The 2011 model year was cut short for Saab, due to their bankruptcy. After all was said and done, only 457 units were produced, which is unheard of for a mass produced car.