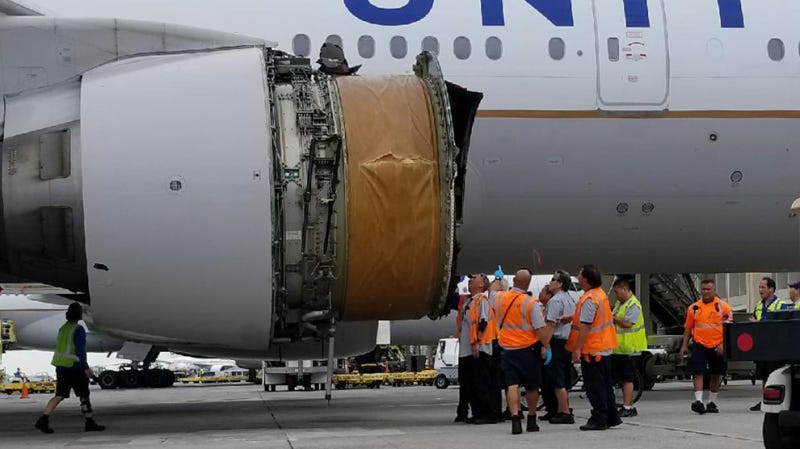 United flight 1175, a Boeing 777, was forty minutes from landing in Honolulu when passengers heard a loud bang as the right engine spooled down and the cowling blew off.
"When something like this happens, you don't know what kind of secondary damage happened when the cowling flies off the engine. It does make for some tense moments," said aviation expert Peter Forman. "What the pilot is looking for is how this event will affect the range of plane, because there is more drag. You're wondering if there's any fuel lines that were damaged. I think that's why they want fire trucks to come out after it lands, just to make sure it's not dripping any fuel. Those are the kind of things pilots are looking for. Looks like the crew will handle it fine."

After declaring an emergency, the crew made a textbook landing at Daniel K. Inouye International Airport, and no one was hurt.  
United Airlines issued the following statement: "United flight 1175 traveling to Honolulu from San Francisco landed safely after the pilots called for an emergency landing because of a loss of the engine cowling (the covering of the engine). Our pilots followed all necessary protocols to safely land the aircraft. The aircraft taxied to the gate and passengers deplaned normally."
Hawai'i DOT also released a statement:"This afternoon United Airlines flight 1175 reported a mechanical issue en route to HNL. The plane landed safely with Aircraft Rescue & Fire Fighting (ARFF) personnel standing by as a precaution. The plane has been taken to the hangar. There is no impact on airport operations or runways."
The FAA and NTSB are investigating.