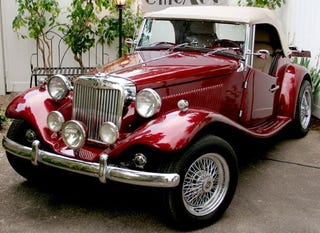 Maybe one of the finest examples of the "fora-de-séries", the MP Lafer was a fiberglass replica of the MG TD. Initially thought by Percival Lafer to be exported, it was only sold in Brazil. As the Gurgels, Pumas, Miuras, Cintras and many, many others, the MP Lafer was built over a VW Beetle chassis with its powertrain. However, since the original MG TD is almost the size of the Beetle, it wasn't hard to project a fiberglass body to fit the VW chassis.

The idea first came in 1971, from the passionated mind of Lafer, and made its debut in brazilian streets in 1974. In the middle, six prototypes were shown in brazilian motor shows. Curious thing is that the replica was actually authorized by MG, and the MP Lafer received an award of best MG TD Replica of the World. Apart from looking great, what greatly helped the popularity in Brazil of the MP Lafer was the closure of our borders in 1976 (and the fact that it basically a classy VW Beetle with fiberglass body, which wouldn't pass the mandatory crash and emission tests of european and american markets).

The MP factory produced one or two vehicles per day, and they only underwent minor modifications through their life. In the first two years, the tail lights came from a VW Super Beetle, and after a while, they swapped the 1,500 cc air-cooled VW engine by a 1,600 cc engine of the same type, but with two carburettors. Since it was built over a Beetle, it was rear engined, but the fuel tank was in the front, very close to the (fake) radiator grill.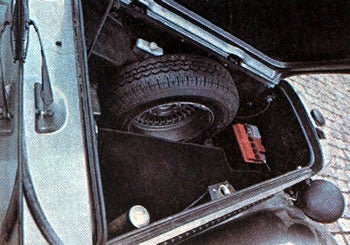 The performance numbers were very appropriated for strolling around. When Quatro Rodas (a major car magazine with more than 50 years in Brazil) road tested it in 1976, the 1,600 cc version achieved a maximum speed of 129 km/h (80 mph) and accelerated from 0 to 100 km/h (0-60 mph) in a lazy 18.8 seconds.

MP produced the Lafer until 1988, and made something around 4300 cars. From those, more than 1000 were sold in the United States, Europe and the Middle East. So, if you want a brazilian fiberglass rare car and can't find a Gurgel, maybe the MP Lafer is the right car for you!
Bonus! A MP Lafer was featured in James Bond's film For Your Eyes Only, and you can find diecast models of it!