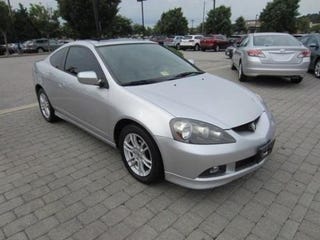 UPDATE: My lil' sis got the car key at her birthday dinner last night. She immediately freaked out and went outside looking for the car, jumping up and down like an 8 year old at Christmas. My nephew took video, but she made him stop when she noticed so she could "compose herself". She absolutely loves the car and how it drives. She called me still giggling and pinching herself. It was a complete surprise. 10/10 success. It was worth all the work we put in.
ORIGINAL POST: As some of you may remember, I was looking for an Integra for my sister. I've been working with my Dad to find her one like the car she loved so much and gave up for an Odyssey when she had kids. Well, I found no Integras of that generation worth getting in Texas or Indy, but I found a nice silver 2006 RSX, and it was at Ed Martin Acura in Indianapolis. This is really convenient, so I put Dad on to it. It's a 5-speed, really clean, cloth interior, sun roof, about 135k on the clock. From what I gathered on the web site, it's part of this dealer's foray into the heavily used market usually occupied by Craigslist, an effort to make more than just sending cars to auction.

So my mom and dad went down last Saturday, inspected and drove it. It's as good as it looked on my screen. The dealer advertised $3990, which my research said is a little high but not out of line. Plus, it's not in Texas; it's right there, which is worth something. I told Dad if he could get it for $3500, that would be a pretty good deal.
So, they offer the junior salesman $3500, which doesn't make him happy. He says he has to talk to the manager, because of course he does. Comes back and says no. The price is firm. Now, this kid probably dismissed my mom as just another nice little old lady. That was his mistake, and he's not the first to make it. Mom says, "That's okay, never mind. But hey, when it gets to where you're getting rid of it at auction, you can call us first and see if we're still in the market."
Before they could leave, the kid goes to talk to the manager again. They accepted $3500.
My sis gets the car as a surprise present Sunday at her birthday party. I may repost this with an update and pics.