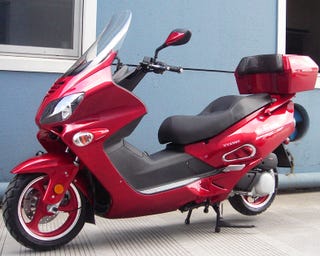 My plan backfired. I think the seller realized what he had and removed it. I mean, he had it advertised and priced as a 150cc scooter and somehow didn't connect the dots that he was really selling a 250cc scooter. Maybe he Googled the "YY250T" on the side. In his defense, he was selling it for his nephew, so maybe there was a break in communication somewhere.

(Lede photo isn't the actual scooter, forgot to take screenshots)
Welp, my Chinese Goldwing dreams are over, onto the next replacement!
I now have my eyes set on a clean as heck Yamaha Riva 200 going for an even lower price than the Jonway was going for.
(Photos are actual scooter)
I'm not sure why I'm looking at it. It's so pretty and in such good condition that I wouldn't even think of tearing it apart. If anything, I'd keep it then sell the Honda Rebel or something.

Backup plans include various Chinese scooters that all run but have been beaten with an ugly stick. I just wish these sellers would answer me. Shoot, I'm not even negotiating, yet.
Ugh...or I'll give up and disassemble Imperator Slowiosa's fuel system, blegh.