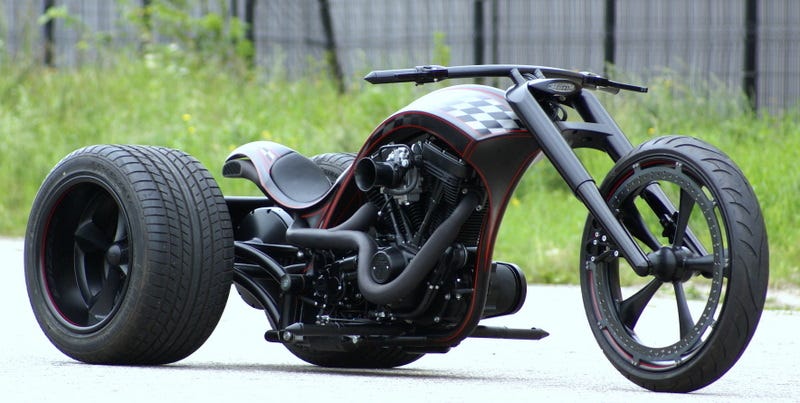 Not sure what it is about trikes, but I've always liked them, from 3 wheelers all the way up to big Goldwing and Harley touring trikes. I understand some of the distaste, and how some view it as the worst of both worlds, ie. you loose the fun and sensation of leaning and balance of a motorcycle, while not getting the benefit of having all the space and weather protection of a car. On the other hand though, trikes look bad ass (well most of them) and if you have the right mindset from the beginning, knowing that it wont ride like a motorcycle, I think they could be a ton of fun, and great to tour on. That doesn't mean I would want to give up my motorcycle, but I would love to add a road trike to my collection, on top of my off road "death machine"
Lately I've been dreaming up a trike I want to build. It would be a 70's style chopper bike, but with a lot of modernness to it. Start with a Yamaha Raptor 700 fuel injected thumper (because reverse, and I really want it to be a thumper) Use USD forks from something like the Yamaha Warrior/ Victory Hammer (because longer forks, and good dual disks), an independent rear end off some ATV, a digital dash, all housed in a raked out frame topped with a king and queen seat, and a classic "peanut" tank, painted with lots of metal flake, but simple graphics. I think that would make an awesome touring machine.
Long live the trikes!