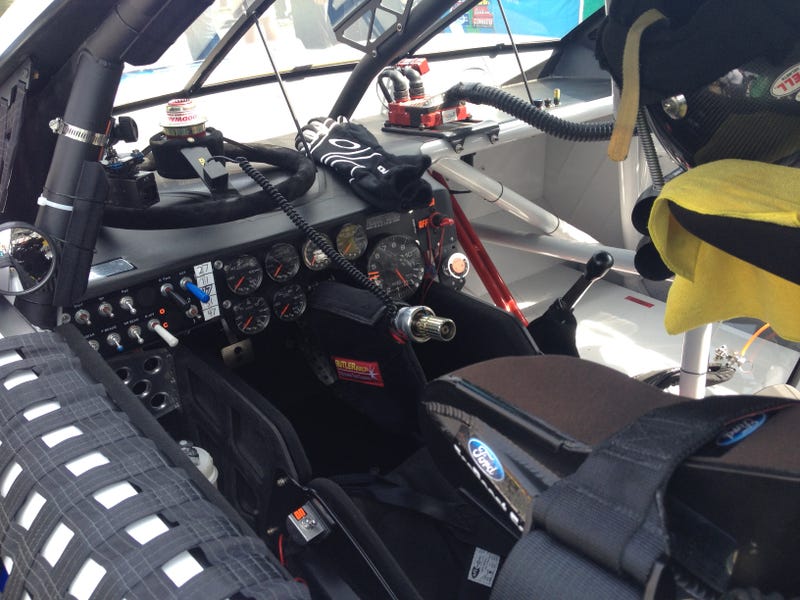 I don't normally watch racing, or really sports in general. I like "doing" versus watching other people do stuff. That being said, I'm a motorsports guy and I plan on attending at least one event of every major racing series. I've checked off F1, MotoGP, and NHRA, and just this weekend was able to check off NASCAR.
As a sports car guy I used to be like many of you, thinking of NASCAR as a "hick" sport. They have trouble making right turns (insert Zoolander ambi-turner meme here), their technology is from the 1950s, and the only excitement is when they crash. As I got into my 30s, I mellowed out about most things and decided NASCAR was just fine, but I never looked into why it's now the second most popular sport in the US (NFL is #1). F1 is cool because of the amazing technology, Sports Car racing because they're using actual car chassis, and Top Fuel drag racing because of the physics-bending power they generate. It was a sold-out crowd at Auto Club Speedway, so NASCAR had to have some appeal, but what was it?
I was lucky enough to be invited to the Auto Club 400 by Roush Fenway Racing (yes, Mr. Jack Roush) to check out their setup, talk with the teams, and watch the race from their pit box. When they told me "pit box," I was expecting one of the nice VIP rooms that overlook pit lane. Oh no, this was the mobile box that the team sits at to communicate with the drivers and run pit stops. Yeah, we'd be right behind the crew as they hop the wall to fuel and change tires. This revelation turned it from a nice way to watch a race to being part of the action. It was intense.
That's me in the green shirt. We would be hanging out with Ricky Stenhouse Jr and his crew. Stenhouse was cool to talk to in the few minutes we had (he was understandably busy on race day). I asked all kinds of ridiculous car questions (setups, different tracks, engines) and took a bunch of pictures of the cage and interior. Before everybody lined up on the grid I got to bend the ears of the crew, talking to the guy who does the suspension (they have cabinets full of shocks and springs), the engine (I wanted to "borrow" their spare), and the guy who trains the pit crew (big fellow, crushing grip).
Holy crap, the noise. F1 screams. NASCAR roars. Top Fuel just assaults your ear drums. 40+ 800HP+ V8s at full-tilt is a helluva sound. There were a lot of cautions this race, but I didn't mind since each time the safety car pulled off you got to hear everybody jam on the throttle. It was glorious. Crank up your volume.
Even just the cars sitting on the hot pit lane before the race was great to hear. Oh, that lumpy idle of a high-lift cam in a big-bore V8. I really want to get my 944 sold so I can start building a LS motor for my next car.
Watching a pitstop up close was crazy. These guys bound over the wall with cars flying in, surround it, yank the tires off, put new tires on (one side at a time, I'm assuming they have a limit to the number of crew members out at once), adjust the suspension, fuel, windshield tear off, scrub the grill (it gets gummed up with tire chunks), and get out of the way.
It was interesting to learn that they actively recruit college athletes for the pit crews. They had several ex-college football stars on the team, which I guess you need to quickly and precisely move around 80lbs+ wheels and tires. The jackman was Richie Williams, who was the '05 National Championship QB for Appalachian St and former CFL QB. That guy could move.
Another thing I learned was how they change wheels so fast with 5 lugs to take off and put back on per wheel. I asked why they didn't use a central center-locking nut like sports cars and F1. The answer, of course, was NASCAR rules. Wheels waiting to go on the car had all the lug nuts glued into place on the rim so when it's placed on the hub, all the lug nuts pop off the wheel and sit at the ends of the studs, waiting to get tightened down. The danger is that the "Wheel Carrier" crew member could place the wheel at a wrong angle, catching the nut and sending it flying into pit lane. They have spares stuck to their helmets, but grabbing one and placing it on loses precious seconds. Shockingly, many of the lug nuts being taken off end up in pit lane anyways. Both lanes were littered with them. I'm not sure how I never saw one get kicked up and thrown into another car or into the pit boxes.
As part of the deal, I got to listen in on the communications as the crew chief talked with Stenhouse. They would constantly give him updates on where other cars were and he would talk about the car setup. I later learned that Auto Club Speedway's surface was pretty bad (last paved in 1997) and the teams were struggling with tires and suspension setups. I watched the cars bounce along the front straight and wondered if most tracks were like that (they're not). The surface is wavy and covered in tar snakes, something I never really notice when I drive the track because I never break 110mph.
Over the radio I could hear Stenhouse talk about the suspension setup and changes to make each stop. They run qualifying and practice different times of the day from the race so the track surface is completely different and they have to adjust on the fly to come up with a winning setup. They would adjust the track bar (or Panhard bar - I just learned what that was and how it works) and the springs, moving each up or down to tighten or loosen the grip. Teams were blowing tires left and right, causing the high number of yellows and lots of finger pointing.
Many teams and drivers were saying it was Goodyear's fault, while Goodyear was saying it was the teams' fault. Because of the crappy surface conditions, many teams were running lower than recommended tire pressures to increase grip. Problem is, you run too low and the tire overheats. Another issue this year is that NASCAR wasn't dictating the camber rates, so teams could be more or less aggressive with their setups. Some teams ran more aggressive camber and would wear through tires faster.
I'm sure the up-close access helped, but it was an exciting event to attend. The tire issues caused a lot of places being swapped. Jimmie Johnson, who was out front, or near the front most of the race ended up in 24th. Kyle Busch, the winner, had been running between 10th and 15th most of the time. By the end of the race, one of my co-workers, who is not into cars or racing, said he was into it and would probably watch the next race on TV.
I certainly discovered the appeal by attending a race. The sounds, the action, the amount of support, and effort applied are all outstanding. F1 is just as much a spectacle, but in a different way. It's not better, just different. If you're a F1-elitist, McLaren (yes, that McLaren) supplies the spec fuel electronics for each car. Also, the cars sound way better (you can't argue with that, it's a true fact).
The appeal also has to do with the series. A bad setup one weekend can put you more than a second off the leader, but you get it right the next weekend and you're on the podium, and that's what the NASCAR rule makers want. They just changed the rules so that you need to have a win to get into the championship series ("The Chase for the Cup") so that you don't have drivers and teams holding back to cruise in on points alone.
So if you're into racing, and not into NASCAR, give it a chance by seeing a race in person. It's quite the experience.
Besides, how many Tudor or F1 races will you see Terry Crews and Tiny Lister at?