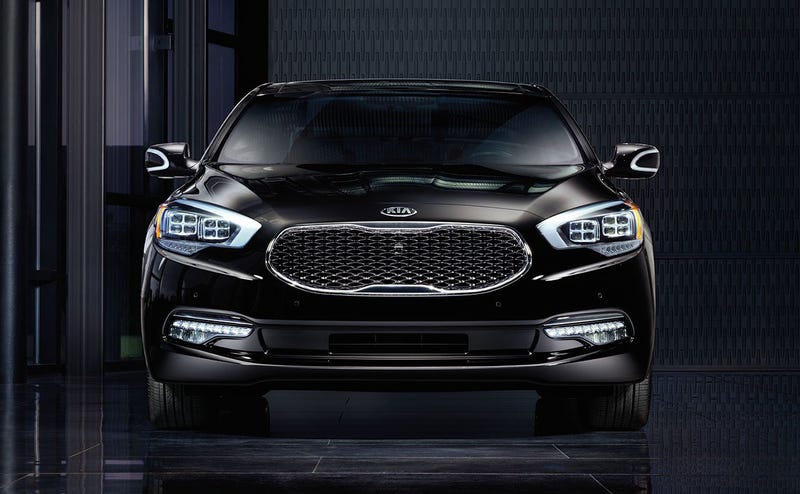 I'll lead with a summary because I'm such an upstanding guy. The big goal for the next generation of Kia products is to have as much progress in ride and handling as they did with design. Kia does say they want to be a benchmark for ride and handling, however that does not mean they are going after Mazda. No, from what I'm seeing I think that — where Hyundai used Nissan/Infiniti as their character muse for premium vehicles — Kia's top end is modeling Jaguar for dynamics.
Car Lineup: Rio Sedan, Rio Hatch, Forte Sedan, Forte Hatch, Forte Fastback, Optima Sedan, [where an Optima Wagon should be], Sedona Minivan.

Crossover Lineup: Soul, Stonic, Sportage, Sorento

Efficiency Lineup: Niro Hybrid, Niro PHEV, Niro BEV, Optima Hybrid, Optima PHEV, maybe a Stonic Hydrogen Fuel Cell (I'm assuming), and a chance of a Stinger Performance Hybrid.

Premium Lineup: Stinger Fastback, Cadenza Sedan, Veredus Sedan (which is the K900 successor, but it could be called anything), and Telluride SUV (if they build it).

---
Kia Rio
It will still be offered in the US in both sedan and hatchback forms. Im not seeing a reason to make a hot version of the Rio though. I know the 201 hp, 1.6t Rio "GT" sounded like a sure thing but I don't think the US would want that level of subcompact Kia hatch for the $22,000 it would end up costing. I could see a Rio "GT-Line" coming out with around 170 hp though for around $19,000, but no automaker can do anything in this segment because the Fiesta ST blocked out the market.
Kia Forte
The upcoming next generation of Forte should end up looking a lot like the Kia Novo Concept pictured above. I'm expecting sedan and hatchback versions are sure things but much like the Elantra, it will be the upcoming 4-door liftback variant which will be the most sporty. Right now the industry is trying to see if the coupe style sedan with a hatch can replace 2-door coupes that are NOT sportscars in anyway. If they do as well as automakers are hoping then they could end up replacing sedans. I'm expecting the same drivetrain as the Elantra Sport but also a hot Forte GT Fastback with the same 2.0L turbo from the Kia Optima SX-L and Optima GT-Line.
Kia Optima
There should be a slight refresh coming next year, maybe tossing in the led foglights we missed out on over here in the US. Other than that the Optima will continue with a hybrid and plug-in hybrid variant. Due to a majority of the Optima range being focused on fuel efficiency, I wouldn't expect anything higher than an improved Optima SX Turbo and SX-Limited Turbo with an optional "GT-Line" packaged that changes up some appearance bits and the ride and handling slightly.
Kia Stinger
Other than a hybrid variant likely slotting between the 255 hp, 2.0T and 365 hp, 3.3T the Stinger is probably done until through 2020. I would expect some special packages that black out the bright work and another that tosses carbon fiber on the car.
Kia Cadenza
I dont know whether or not Kia is going to bring the Cadenza down a bit in price by using a turbo 4-cyl or fix up the surfacing and trim materials to better position it as an actual premium product. At the moment I think the Stinger and the Cadenza are both virtually even as near luxury products, sort of mirroring the relationship between the Lexus IS and ES. If the Lexus GS does disappear then Kia's premium sedan lineup will be very similar to Lexus. (Kia Stinger - Cadenza - Veredus compared to Lexus IS - ES - LS).
Kia Veredus
The K900 successor — yes, a successor is happening — will likely focus on nearly cryogenic levels of occupant isolation while hopefully making sure the steering and handling aren't the aspects that best exemplify that goal. This will still be softer than Charmin but at least you won't be able to pick up a dime off the sidewalk during cornering. Big news would be the 3.3T and optional AWD, which are a given but the V8 is likely dead.
Kia Soul
We should have one more model year with this recent facelifted Soul before an all new one launches in the US. I wouldn't expect the next generation Soul to look much different nor to gain AWD. I do think that the 201 hp, 1.6T will continue through and the only standout special elements I can imagine would be lighting, sound system, and a lot more levels of exterior customization for the US. Pretty much like the "Bi-Color" options above but with an even broader range of variation.
Kia Niro
Like the Soul, the Kia Niro is another tall hatchback that probably won't ever see AWD since that would destroy the fuel economy. A plug-in hybrid and an all electric version of this dedicated hybrid are supposed to be launched relatively soonish.

Kia Stonic
After two subcompact "crossovers" we will finally have a true entry level CUV from Kia. Though the Soul and Niro are marketed as crossovers only the Stonic will offer AWD and compete directly with the CX-3, Juke, and C-HR. I list those three because this, surprisingly and allegedly, is one of the driver-focused Kia models. It is shaping up to be an extremely attractive vehicle thankfully, no quirks insight yet. The Stonic will likely get the 201 hp, 1.6t and 7-Speed DCT combo we see in every lukewarm performance Kia and Hyundai. Hopefully, like the Kia Forte, the Stonic will also be a candidate to receive a 240-255 hp, 2.0T engine and a full on "GT" trim. Oh, and I think they want to make an EV version. That's weird since the Niro is getting an electric variant, so maybe they are thinking hydrogen and replacing the last generation Sportage fuel cell.
Kia Sportage
Fix the face because the lighting elements are too high up. This is like that person you can tell would be extremely handsome if it wasn't for their eyes being on their forehead. Oh, and with the fast approaching facelift should come a "GT-Line" trim which, like the Optima, would keep the updated SX Turbo's 2.0T engine but add some appearance and handling tweaks.
Kia Sorento
Just the usual front, rear, interior, and feature updates. Should be happening this year now that I think about it.
Kia Sedona
I think Kia is going to fully embrace the Sedona as being the Minivan for Empty Nesters. A touch more razzle dazzle at the top end of the trim lines and head home. Other than that, just a quick freshening up then set it and forget it.
Kia Telluride
Supposedly the Telluride might happen. I think a more rugged, 3-row version of the Genesis GV80 would be the most successful move. That means a RWD chassis, premium position, and an optional turbo V6 to play with. If this happens then I'll be the fourth person in line (I roll out of bed when I feel like it).
---
I like that every vehicle is becoming distinct while still holding brand cues. Hopefully the lineup designs are 100% solidified over the next few years. You can tell Kia hasn't figured out how the CUV design will work. They were going in an accidental frog direction with the Sportage, Niro, and Cadenza but seem to be breaking away from that since it obviously wasn't working out as the faces got bigger. Hopefully the Stinger and the Stonic preview the correct direction. That's all for now, tune in next week when I give you the history of the Kia Kink!
*Just for funzies, check out how much variation is in the signature "tiger nose" grille designs. The idea is that every model gets a different shape (which incidently impacts the headlamp designs as well).