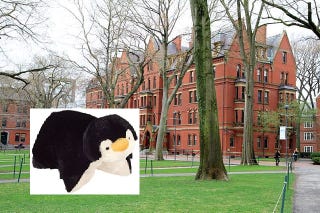 With vague pictures of my RAV4 packed and ready to go, as well as a video from Old Row, y'all were understandably concerned about whether or not I was going to be okay. It was also 4:30 AM when I hit the road. My friends sent their thoughts and prayers to me when I told them that the location of that Bid Day accident was indeed my destination (kind of). A day and some change later, and I'd like to tell y'all how it's been.
My new living place is very nice. It has a free washer and dryer and a huge living room. The bedroom I'm in, meanwhile, has a full-sized bed, probably 20 power outlets, and a big closet. This is a major upgrade. The guys I'm with are nice, and I have good hopes for the rest of the year. Last year's scenario is a reason why I put more miles on my RAV4 per month than anyone else in my family on their cars.

Freshmen are getting settled in, so I'm purposely staying isolated to not interfere with their activities. I had to go through all of that, too; it's a regimented schedule, as not everyone is a girl that rushed a sorority.

Speaking of sororities, I just wanted to use this post to clarify that I am biologically male and, as of today, I use he/him pronouns, so I am not in a sorority. Considering the type of crowd that attends, I don't know if a transgender recruit would fly, even in 2018. I could make a post about Greek life and how negative it is, but we're not spilling that tea today, sis. A lot of sorority girls, surprisingly, live by me; there are lots of sorority stickers on crossovers in the parking lot. My car twin from last year is here again, too, so that was a spooky "Welcome Back" present.

My birthday is in a couple days and classes begin Monday. This is just an excuse for me to be here without any academic commitments, something I haven't done in a long time. As usual, I'm still avoiding alcohol, drugs, and going downtown in that sense. This should be a much better year than before, and I'm hoping I'll feel more positive than negative.