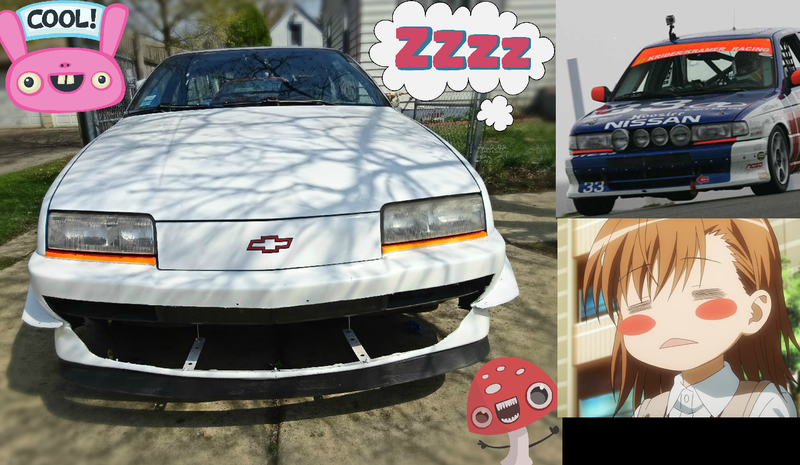 What's up y'all, it's been awhile. This is what I've been up to in my mad lab!
So essentially I was stripping the car left and right to make it as light as possible without heavy fabrication. I decided to dial it back a notch since I'm going to be DD it for the next month—-AKA, putting the heavier stock hinge hood back on versus the pin on fiberglass one for practicality sake.
Now I like my cars to be functional first and foremost. Everything else is an afterthought. My car used to be Rustoleum Gloss Sail Blue until I got tired of it.
Actually, it used to be all kinds of colors. Now it's Rustoleum Gloss White. I like Rustoleum. It's cheap, easy to use and it handles ALOT of abuse. That last part is key since I essentially do nothing in terms of prep or clearcoat.
I put those orange things under the headlights as tribute to a grassroots Nissan Sentra Racing team that I read up on Jalopnik all those years ago in 2010 and really liked. It's actually a neat read!
Read Here. Also "Will Senpai Notice Me?!"
I grabbed a set of fiberglass fender flares from EBay which came all the way from the Ukraine. Drilled some mounting holes in it and well...mounted it?
Also I cut a huge smiley gaping hole in the front for maximum airflow to my nonexistent intercoolers. It's alllllllll motor baby! Well, all 2.2L of it.
I had to put in some reinforcement since I took out, like a huge piece of support.
I still got to coat it black so it is "hidden."
The Z04 kit on the Beretta Z26 utilizes an inner air channel shroud that actually funnels the air up into where the grill is supposed to be internally. I never had that and I'm not going to put the oem open eggcrate grill because I like the looks of this more Aero design. I have zero problems massacring the front bumper to achieve my goals of world domination.
Now if you direct your attention to the next slide, I hand made some bumper canards using aluminum.
It was pretty easy actually, and hopefully it'll give me some kind of downforce up there because science 'n shit!
I'm running D-prepared BUT in the tire limited class since I have street summer tires on it. I guess that's what happens when I strip out the interior and start replacing windows with Lexan.
I still have some things I need to wrinkle out on it but it's all good.
Also a list of specs and mods on this thing so far:
SPECS
1995 Chevrolet Beretta w/ Isuzu 5 speed transaxle 3.83 FDR
GM 2.2 Ln4 motor. SFI Inline-4 w/out balancing shafts. 133.2 cubic inches
comp ratio 9:1; Bore 89mm; Stroke 88mm
120 Hp@5200 rpm; 130 lb ft tq@4000 rpm
Weight stock 2700 lbs—-Mine's probably sitting at 2550 lbs
MODS
-Quaife limited slip differential ( Literally cost me more than what I paid for the car lol)
-30mm front swaybar; 25.4mm rear external piggybacked swabay with a small diameter internal torsion beam bolted on (don't remember the diameter offhand).
-Sprint 1.4" lowering springs; KYB gas-a-just rear shocks and GR-2 front struts
-mixed poly bushings and GM performance FE3 bushings
-Fidanza lightweight aluminum flywheel
-Stripped interior including passenger seat (Dodge Demon, what?)
-Lexan rear quarter windows
-Warm air intake setup
-currently have 1.5 stamped rockers but debating whether to throw in a set of 1.6 Comp Cam steel roller tips I have lying around.