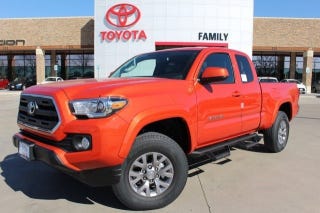 A few weeks ago I told you about/asked your opinions of the Toyota Tacoma my friend purchased, and didn't even make it out of the parking lot. The TL:DR version is: he bought his first new vehicle, his dream truck, and the check engine light came on in the parking lot of the dealer. He ended up driving home in a used Altima loaner. The dealer wanted to pull the engine to tear it apart and find the problem. Some of you speculated that because this is a new motor, Toyota requested this to see if there were any production problems.
I just thought I should update you on what happened. Indeed it was Toyota corporate who wanted the motor pulled, although they didn't end up taking the engine out because they were able to figure out the problem on the top end, a damaged cam shaft. Unfortunately because this is a new motor, parts were not available for two-three weeks.
So here's the good news. Both Toyota and the dealer stepped up to make this right for my friend. They canceled the sale of that truck to my friend. He still really wanted a Taco, and not just any Taco. He wanted a Taco in that color (orange), with an Access cab 4x4, and some other package I don't recall. There were none available in a thousand mile radius.
The dealer ordered him a new one exactly as he wanted, and Toyota corp. bumped him to the front of the custom build line. That still puts the truck at another 4-6 weeks away, but in the meantime, the dealer is switching out the Altima loaner for a pickup truck loaner.
It still sucks for my friend to have gone down this way, but ultimately he is satisfied with the resolution.