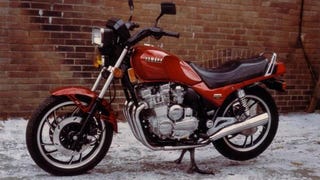 Yesterday I posted about maybe getting my Class M license and a possible cheap first bike. Well, I went to go look at it today and it turns out that it is a lot more bike than I thought it was. It's not a Yamaha XZ-550, but an XJ-750 Seca, as pictured but yellow. It also turns out that my Step-Dad has managed to get it running in his free time.
I tried it out in the yard (with a helmet of course) and managed to get most of a lap done before crashing. I scraped my leg and burned the back of my ankle on the exhaust, but other than that I'm fine. The bike however is not. One of the spark plugs snapped and my local NAPA doesn't have the right ones in stock. I'll have to wait a few days before I can try again.
I do understand that this bike is too much for a beginner, but it's free and I don't have the money to buy a smaller one. I'm just going to practice constantly & carefully until I feel comfortable going up and down our private road before trying to take it out for real.
On a lighter note I got to borrow that Firebird for the day again!