I ventured out for a little bit earlier but didn't get any pictures. Lots of roads still blocked and I didn't want to be in the way. The ones below are from local news. As of right now it was rated an EF-3, but that could change as surveys continue. Unfortunately, 4 people so far have lost their lives.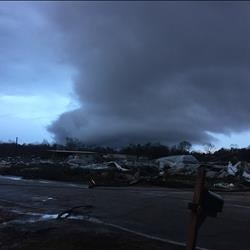 I'm at a loss right now. This tornado passed only a mile or two from my house. There's devastation everywhere along the path.
What makes it worse is there is a potential for more severe weather later today. Current mesoscale discussions are suggesting another tornado watch will be issued in a few hours. I'll update with more later.