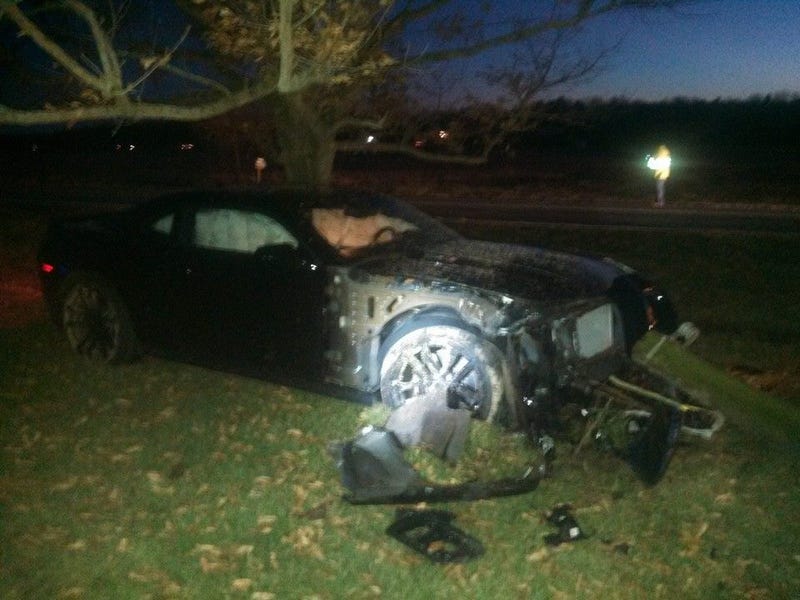 The pictures are from an EMS worker on the scene and this went up from the owner on Friday, so at least we know now that GM has decided to intervene.
"For the record, the car was a TWO-OWNER car, not a one-owner car like the dealer told us. The dealer NEVER mentioned the front end damage—my wife found that out on her own. WE paid $55 for the CarFax—the dealer never offered one. The dealer also did not mention that the car had aftermarket tinted windows, aftermarket emblems, and NO DOCUMENTATION. The car just looked like it had been run hard and put away wet. My 10K tires still had over 60% tire life remaining. The so-called replacement needed new tires at 13K miles.

If the dealer had bothered to sit down with us and offer a few options in cars, maybe we would feel differently. But THEY chose the car (a trade-in) that THEY wanted us to BUY from them. Even $4000 (feel good money) was not important to us. We would have gladly PURCHASED an equivalent replacement with no "feel good" money. Money is not everything...

At any rate, a retired GM exec called me today to let me know that GM IS involved now. It is our understanding that the matter will be resolved to our satisfaction next week. And GM will make sure that we are treated fairly and equitably.

If anyone happens to call First State Chevrolet, the receptionist is named Norma. She is a real sweetheart and does not deserve to be disrespected, so PLEASE do not give her a hard time.

Thanks,
John"
Hoorah, thanks you big series of tubes! Well, maybe anyway. More will follow, I am sure.