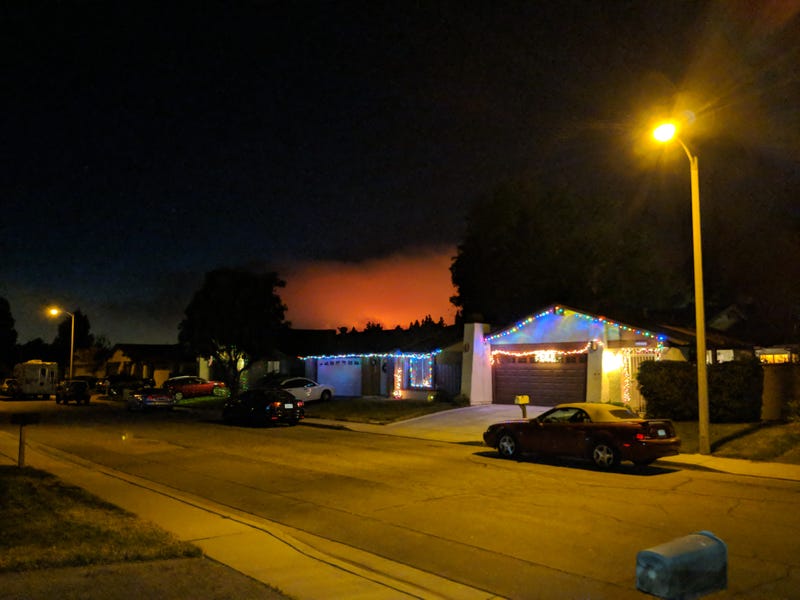 12/5 1811: CalFire has released new objectives that include keeping the fire north of the 126. Or, in other words, keeping it away from my house. Based on that lovely glow, and that the winds are still going NE I can assume that at this moment I won't need to GTFO. But until they get some containment I won't be resting easily and I will continue to figure out what crap I bring with me.
I'm not going to lie, this is still freaking me the eff out. When I got home around two today I sighed in relief because you couldn't smell smoke in the air and the wind had died down. I watered the lawn down, but I was glad to be home and be able to see where the fire is.
Update: 12/05 at 1811: The voluntary evacuation zone is now a few blocks from my house. The fire still needs to go through quite a lot, and the wind is still blowing NE, but I'm going home in a minute and packing and then going to water everything down.
My power is back on, and I so is everyone else's who hasn't had their house burned down. I'm not under threat of evacuation at this time; the fire would need to burn through several miles of structures and then cross the 126, and then go through more structures to get to me.
However, my sister's mother in law is probably going to lose her house. Her fire alarm has gone off and a neighbor just below her has already lost her home. She's basically in this hills on larger tracts, so there aren't many structures to protect her.
This is all quite surreal, and I'm having a hard time grasping that someone I know might lose their house. I can't imagine what she must be going through getting a notification her fire alarm is going off, and there's nothing she can do about it.
I couldn't get any pictures last night, but with the power out all I saw was this massive red glow. The whole sky was lit up by the fire. It was creepy as hell.
The wind is blowing west right now so no ash on me or most people, but by it blowing west it's threatening a major portion of Ventura [city]. If it blew north it would just be burning brush.