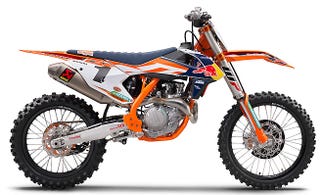 Hey there, American citizens! Do you like Supercross, flat-track racing or freestyle motocross? Are you a current dirtbike owner who would like a new one in a few years? Do you plan on learning to ride in the future, and want to be able to afford a new bike? Bad news.
Purely in retaliation for European countries refusing to sell our genetically modified beef, someone has proposed a tax on 85 items-84 of them are food products, and one of them is ANY MOTORCYCLE FROM 50 TO 500CC!
This includes every Husqvarna and KTM dirtbike ever. This also includes Piaagio and Vespa, and those small displacement import bikes that smaller companies make a living importing and repairing, so we're talking about thousands of small businesses in addition to the big off-road dealers. Also, if the -500cc tax passes, what's to stop them from applying the same tax to ALL IMPORTED VEHICLES?!
There's a petition to sign here, but the count seems stuck at 1 no matter how many people actually sign up. Instead, I propose that you call your local congressman-preferably a Senator, there's less of them so their word probably means more than a Representative-and tell him or her that:
1) motorcycles have nothing to do with beef,
2) small displacement motorcycles are the life's blood of motorcycling, from Supercross to city riding to trail adventures, and taxing them only hurts the small, locally owned businesses importing them for sale, and
3) protectionist political moves like import tariffs lead to strained foreign relations and awful domestic products, plus it's Soviet-era bullshit a democracy as great as ours has no business involved in!
Here's how you find your local representative. Here's how to find your senator. Get involved, Opponauts and Lanesplitters, YOUR COUNTRY NEEDS YOU NOW!