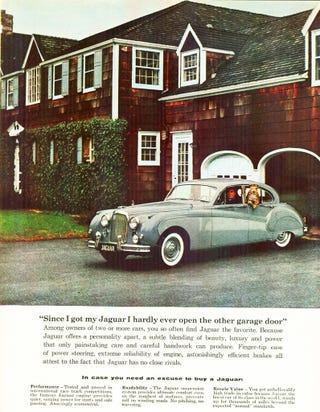 What can you buy for $13,500? You could get yourself a really nice Corolla, or a cherry Honda Civic, even an almost new Fiesta. But why would you want to, when you can ride in something this cool? Yes, this is a "good" condition Jaguar Mark IX, and it just oozes class.
Look at that beauty parked on the street nestled in between two vehicles that define the proletariat. Your ambitions are better than that! You deserve whitewall tires, and a tasteful two tone paint job. Your grill demands respect, and people will point at you.
Why drive around in your boring grey, tan or black interior, when you can find yourself in a bright red leather interior with wood everywhere? The wood is perfectly varnished. There are bench seats in the front, so you can keep your lady close. In the back, it has folding tray tables like an S-Class. Pretend you're a diplomat, and have your kids drive you.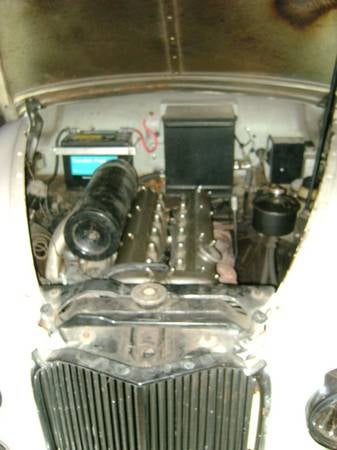 Under the hood you get a 3.8L straight six that once made 220 bhp. That's about twice as much as one of those lowly Fiesta with it's measly four cylinders. Sure, you may get 12.7 mpg, but who has time for fuel economy when you look this cool?
The Jaguar Mark IX was also the first production Jaguar to offer servo-assisted disc brakes and recirculating ball power steering. Fancy!
Sure, you may have to deal with some reliability problems, and this car isn't exactly what you would call "safe." But does that really matter? Do you really mind that when you know you could park in the middle of your Cars and Coffee and not feel out of place? Get some tools, join a forum, and get ready to spew excellence from your stately British tailpipes.
Washington DC Craigslist: Garage Kept 1961 Jaguar Mark IX - $13500 (Alexandria Old Town)
Lead Image: Classic Cars Today Online