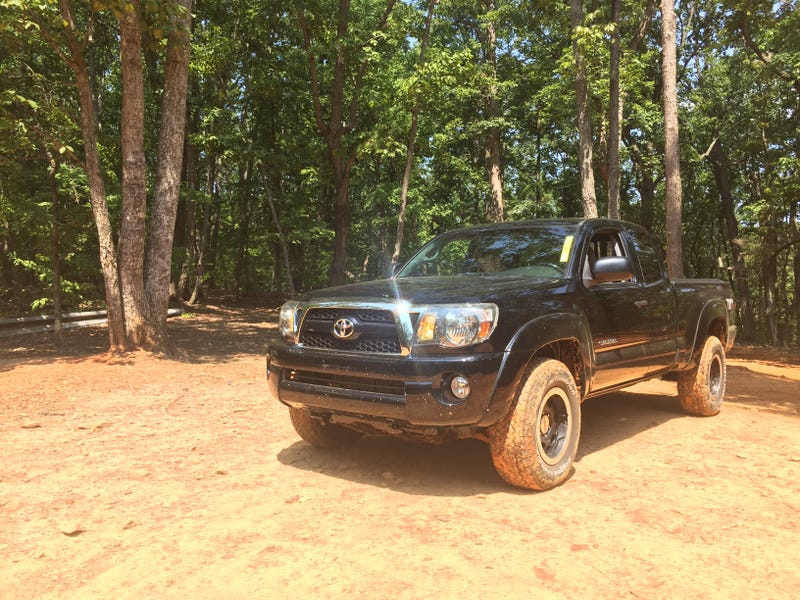 Some of you may have seen my recent purchase, a 2011 Tacoma. Last week, for Labor Day, I headed up to Uwharrie National Forest to test out my new toy.
This was my first time going, so I was a bit nervous, especially since it was basically my first day driving the truck.
That said, the truck exceeded my expectations. We didn't get stuck once, even with a novice driver at the wheel and fake ATs that are in need of replacement. I took the wrong way in and got thrown into a medium trail, which was enough to test my ability and necessitate the locker. I managed not to pick up any significant trail damage, even though I dropped it pretty hard a couple of times. However, it's making a bit of fan noise now, and I think I threw a rock into it at one point, as it picked up a pretty good pinstripe on the passenger side. My only other complaint was that I could've used a bit more breakover angle, but leveling kits are only $59.95.
There were a lot of other rigs out for Labor Day, but I didn't get any pics of them as I was more focused on driving. There are trails of all levels, and I even saw a stock JKU Sahara out on the trails. If anyone wants to go, I suggest you kick off your trip at Eldorado Outpost. It is one of the cooler gas stations I've ever seen, and an easy place to buy a pass at. They also have free air when you're done. Overall, it was a pretty good way to spend 5 bucks, and I highly recommend anyone that lives in the area check it out.