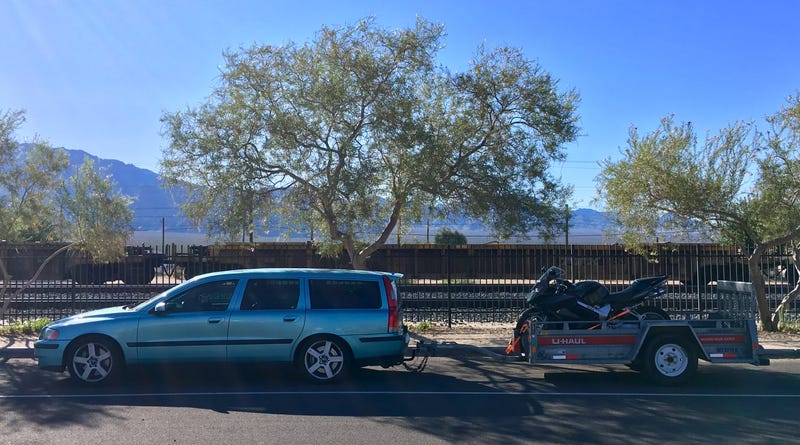 The recent post about pirates and our favorite "Rs" inspired this post.

I bought a thing recently and drove 1,400 miles to acquire it. That thing is a 2006 Honda VFR. I towed that thing with my 2004 Volvo V70R. I am hoping this bike will a more touring-suitable replacement for my 2016 Yamaha FZ07.

I have done a little towing with the Volvo but nothing to this extent. 2,000 pounds at freeway speeds, through the Mojave, and over several mountain passes. It turned out to be an absolute delight to tow with. The long wheelbase combined with the adjustable suspension and speed-sensitive steering lead to an incredibly stable ride at speed. The huge Brembos really came into their own since the trailer lacked brakes. I still don't fully understand the cruise control but it's definitely linked in the CANBUS with the transmission and boost control. It refused to unlock the converter for hills outside of one extremely steep one that I just let it try to maintain 75mph. I would just watch it just apply more or less boost to maintain speed. It typically took no more than 5psi (15 is full boost). The factory trailer wiring can sense when a trailer is hooked up and will automatically hold gears longer and auto-downshift under braking. Amazing. This was the one time I didn't wish it had the 6-speed manual. Considering the trailer, two people, two big dogs, and the car loaded with camping gear, we still averaged 18mpg.

Back to the bike. It's a two-owner, well maintained, and importantly not red. It came with paint-matched hard cases, a Two Brothers exhaust (omg the sound), riser clip-ons, and a recent full service. I'm not a fan of the increased weight but I'm looking forward to seeing how it does loaded down at speed.