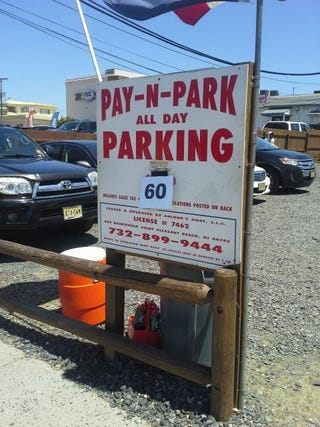 "We should be wearing ski masks when we ask people to pay this much for parking" - me to my boss
Yes you are reading that sign correctly, for 4th of July weekend we were charging $60 USD for parking 1 car all day. That may sound a little absurd but people still pay it! Every holiday weekend the lot I work at manages to pull off this basically robbery due to some simple supply and demand. We open up at 12pm since all the other lots charging $25-$30 have filled up by then. Since there is literally nowhere else to park within 2-3 miles of the lot, people will pretty much pay anything to park. The shocked looks on the faces of people driving by is priceless. I feel really bad for the people who actually pay the money, especially the ones that leave after an hour or two. But hey, capitalism at its finest!
Anyways, I have been working this job for the past 5 years of college during the summer weekends and so I will be there all this summer. There is so much crazy stuff that goes on with the drunk people, angry people, and of course some interesting cars every once in a while. So I will definitely be posting some pictures if I end up seeing something cool. Below I just have some random pictures from work that I took over the holiday weekend.
We pack em in nice and tight. This is the really fun part of the job honestly. You have to judge the angles right and just know when to turn a car. This of course has really helped my parallel parking skills in my own car. Believe it or not, this picture shows the lot in a very organized and underfilled state.
Up front in the lot we generally try to keep some of the nicer cars or in the case of that Lexus, anyone that gives us a nice tip to take care of their car. Also that Porsche Panamera sounded wicked as hell when it fired up.
This picture is from the inside of an Audi. I just thought the extremely long message in the middle was so unnecessary. With 1-2 words per line that message takes up such a crazy amount of space. Not to mention the fact that it is a standard across all cars that you step on the brake to shift out of park.
This is a picture of skid marks from when an idiot in a riced up VTEC IS KICKING IN YO acura integra decided he didnt like the price of $60 so much that he needed to go pull the ebrake and chuck rocks everywhere in the middle of the lot.
I just think that two door wrangler in the back is so much cooler than the four doored one in the front.
Plasti-dipped BMW 3-series. It seemed almost ricer to me, but I thought the color was kinda nice.
I really like the new face for Mazda frontends and I like that red color even more. I wonder what a Miata would look like if they put that on there though.
This was a pretty sweet Chevy Caprice that has an interesting licence plate choice. I also really got a kick out of the ABS badge. That just seems like a very pointless badge to put on a car lol.
Some Fireworks to end the weekend!