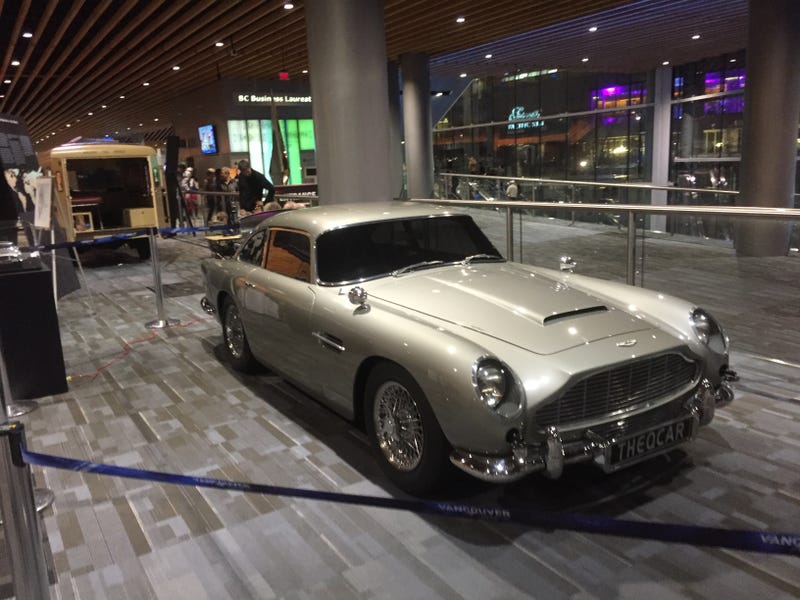 This is my toy car this is my real car this is my toy cars toy car
Went to the auto show last night, it was pretty cool. We never get any reveals and generally don't get any of the interesting things that have already been revealed. I mean, Mercedes didn't even bother to come. This is not an important show. But we got an actual DB5 movie car!
So that was pretty neat.
A friend of mine works at a custom shop, and they were invited to bring two of their current builds along. Neither are totally finished, but they're still really cool.
This one has an old Corvette 283, and modified boat exhaust. They both have rather intense suspension situations, of which I do not remember the details. This one also has side/rear mounted radiators.
This one I know more about. It's a Model A body, with a 12v Cummins running a 58mm turbo, in theory making 800ft/lbs and 400hp. The customer specified a Model A that could run 12s in the 1/4, and also tow his show car. This thing is rated for 10,000lbs now.
Oh and that's a 5 speed manual. I like these things.
So now onto less rat rod things.
Purple Porsche.
Martini 918. Yes please.
A Lexus that I don't hate. They had some godawful concepts here too. A hideous convertible, and something that looks like a decepticon had its way with a renault twizy. No pictures because I don't want to burn anyones eyes.
The only Ferraris that I actually stopped for.
The Giulia looks large and questionable in person. I hope to see them on the road, just to shake things up instead of the never-ending stream of F30s.
Oh sweet jesus yes. This is the best thing here, by far. Excuse me while I hhnnnnggggg
So yeah. I didn't many pictures because everything else was pretty boring. A maelstrom of ugly Hondas and Toyotas, annoying FCA speakers, a Fiat 124 that wasn't the rally version, some more 4Cs as always, your regular assortment of exotics with shitty decals and 15 year olds yelling about which is better. Uhh the GTi has a nice interior, new BMW build quality is scarily bad, the Jags and LRs look amazing, the ATS-V is still my favourite in its segment, and I really like the Fiesta ST just from sitting in one. Shifter is pleasing, and dear lord the seats and phenomenal. This has been my quickly condensed opinions after a short auto show visit, thanks for looking!