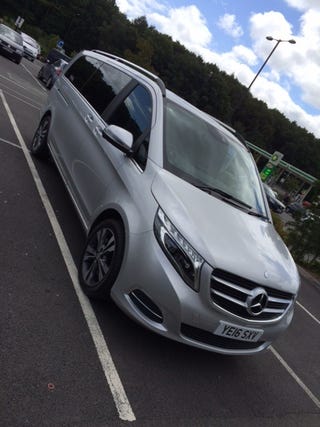 I work for a company that deals principally in what you United Statesers would refer to as 'ground transport'. We run several Mercedes saloon cars, but have always had an FCA shaped villain in the fleet.
Yes, we ran a Chrysler Voyager and although the clients rather liked it, everyone who either drove or had to look after it disliked it. Quite a lot.
So, in line with our Smug Three Pointed Star product policy we bought a brand spanking V-Class. This, dear people, is the review.
(Full disclosure: Mercedes Benz wanted me to drive this V-Class so bad, I had to get a job as driver, wait 18 months for its predecessor to become a full blown liability, encourage my boss to order one, have the first one turn up in the wrong colour, drive the older version (in poverty spec) as a 'courtesy' car, then finally take delivery and have the pleasure of driving people left and right, and through the M4 from Bristol to Heathrow like some sort of licensed Sisyphus.)
Visage.
There is something of the S-Class about this generation of Mercedes van. Perhaps it's the shut lines or the LED rear lights; perhaps it just looks good in silver or white.
I think this is mostly to do with crash legislation. The general shape of a vehicle is pretty much the same across the smorgasbord so manufacturers go for details to distinguish. For some this means odd crease lines, but having already explored that particular view, Mercedes have come out confident and elegant.
I also can't quite shake the image of a Starship. Not only is it big, it also looks confident. Rather like the VW Caravelle, the lines are clean and relatively uncluttered. I like it. What do you think?
Interior.
If, like a large percentage of the people who will experience this vehicle, you're being collected from an airport or taken to a meeting by a nice person in a cheap(ish) suit the rear is where your attention will be focused. First feels are good. The leather is nicely stitched and both leg and headroom is excellent. The chairs and rear bench slide back and forth on rails and this being a large vehicle (the version on test is called, in typical Mercedes lexicon, 'Extra Long') luggage space is better than any car-sized MPV. Loads better. You can transport six people and their luggage in comfort. You cannot do this with say, A Ford Galaxy, or maybe a Chrysler Voyager...
There are removable cupholders and reading lights, ample ventilation points and zonal climate control. There are hangers and 12V power points and all round Isofix points for the children (they thought of the children) and then there's the table mounted in the centre.
My fantasy vehicle would be like the ship in The Flight Of The Navigator. The little table that folds out and raises right in the middle of the V-Class goes someway to letting me live that fantasy. Indeed, one client recently gasped as it rose like he'd seen something genuinely, heartbreakingly, beautiful.
This, however is where you get your first sniff of where the development budget has gone. The V-Class is quieter and smoother than the last generation (more on that below) but many of the everyday finer points haven't changed at all.
You may call me pedantic for pointing out that the central table is mostly made of cheap materials or that the plastics in general are definitely on the utilitarian side, but if you had to live with the leather (hard to clean) or had to move the seating plan regularly you may change your tune.
An example: all of the seats are on rails that run from just behind the drivers row almost all the way to the back of the vehicle. This means that if you're a family man in need of a van or a pornographer in need of a wider shot, or, indeed, a ground transporter needing to adjust the seating configuration, you can.
But what's this? An individual seat weighs the better part of 27kg (a baby White Rhino) and the rear bench in total weighs 83kg (a baby Elephant) and despite claims to the contrary are just as reluctant as said fauna to be removed? And those afore mentioned seat rails (there are four across the width of the interior) don't go all the way back meaning you can't push the rear bench all the way to the rear? It's frustrating stuff. More so when you've spent nearly 50 thousand Sterlings on the bloody thing.
Sitting up front is the same mixed purse. An unsurprisingly van like driving position isn't so bad, nor are the materials that make up the dash: all leather and quality feeling plastics. But wait, the plastics seem to think of the dash as a crime scene (easily marked and finger printed, I actually have to clean the buttons after every use lest a client notices and thinks we're incapable of keeping a vehicle clean) and the infotainment. Oh, the infotainment.
Mercedes make a very simple to use, very good system already. You can find it in most of their products. The V-Class, however, comes equipped with a Garmin/Mercedes hybrid. It is neither obedient nor reliable. It chooses its own way of doing things (you can't hold the map at a preferred scale) and when it looses signal the unit in the V-Class I've been using looses the will to live, pixilating the screen before shutting down and rebooting all together.
Mug Garmin off Mercedes, you already do this part really well.
On the plus side connectivity is good with two USB ports, a 12V socket and a CD/DVD player. There are very few excuses for experiencing boredom in this vehicle.
Oh, and there's a split tailgate. We havent found a use for this yet, but for a private user (provided they have optioned the rear cargo shelf) this would work very well indeed in any kind of car park where the V-Class' size begins to work against it. Also, split tailgates are cool. FACT.
Driving.
In handling terms, it would be unfair to compare the V-Class to a something like a Ford Galaxy or maybe a VW Sharan, as, unlike those vehicles, it isn't based on a car. It's based on a van. Nevertheless Mercedes insist that it is very refined 'car'. And it is. Almost.
So let's start with the older V-Class or Viano as it was known in the UK. That model had essentially the same drive-train as this. The biggest omission this time around is you cannot spec the Diesel V6.

So we're stuck with the 2.1 twin-turbo diesel four. The version on test is the '250', meaning a higher performance spec with 190ps (187.4bhp) and 440nm (324.5 lb ft). Better still, in any driving mode (a little more on that later) except Economy it features an 'over-torque' function that gives an extra 13bhp and 40nm 'that becomes available in acceleration phases'. I'm not entirely sure what this means. I'm not entirely sure whoever wrote the press pack knows what this means.
Murky power figures aside, it's not a bad engine, is at least a generation or two ahead of the VM Motori 2.8 found in our old Voyager, and moves along nicely, easily cruising at motorway speeds, (top speed is quoted at 129mph - no one I've mentioned this to who has driven it doubts this figure) and having no trouble leaping off a given line (0-62, 9.1) when you've picked the wrong lane.
It also returns okay fuel economy (we're seeing 35ish miles to a UK gallon) but it is tad vocal, enjoying a good moo at cruise and a bit of clatter at town speeds. To be fair to the V-Class, you are mostly insulated from this by the quiet cabin, but be prepared for a small shock when you're paying the toll, or getting that ticket for the airport car park.
Thankfully the gearbox is excellent. Smooth changes, reasonably responsive, it too is part of the four driving maps: Comfort, Economy, Sport, and Manual. Leave it in Comfort and hone your smooth skills.
The last generation was a small challenge to drive smoothly, with lurchy steering and a top-heavy feel. This generation is much better. Mercedes, in a move to make the V-Class more acceptable to the consumer market, have redesigned the entire front suspension set up. There are single wishbones, which would account for the new lack of lurch, and at the back we've been graced by independent suspension, albiet on semi-trailing arms. The steering, while lacking any kind of real feel, is accurate and smooth. It features a variable assistence so that parking speeds are easy and motorway speeds are stable. As fit for purpose, it does very well indeed.
Same goes for the brakes, which, as seems to be a Mercedes tradition are very well judged for accuracy, and for my money at least, just the right amount of travel before any real bite takes place. They are never snatchy and always reasuring.

All in all, this is by far the most improved part of the V-Class over the last generation. Don't, however throw it down a B road. You are not seventeen, and it is not, despite a 'Sport' setting, even remotely suited to any kind of review mentioning 'point to point agility' or 'handling' or clichés involving 'front end feel' or 'stabbed rats'.
Value.
'Ain't nobody ever bought a Merc because it's value for money' said an imaginary American alpha male in my head. The V-Class keeps up this fine tradition weighing in at £48,700 for the as tested V250d Extra Long. That's quite a bit of wedge. VW also understands this game well. Compare an almost identically specced VW Transporter, and you'll have not a bit of change from £43,962. Interestingly those nice people at the Daimler UK press office say that 40% of sales of this year to date have been private.

Also, 'Extra Long'. Heh.

What about finance? Or Lease? Mercedes, of course offer their own finance deals with four separate ways to go about putting you in the drivers seat but a quick shop around revealed there are about a bajillion (that is an actual number) different deals. Conclusion? You have Google, you have an enquiring mind, go get a great deal.
Conclusion.

The V-Class is a good looking, very spacious, and comfortable alternative to the VW Transporter. Despite what Mercedes say, it is not a car, and its practicality, due to those heavy seats and limited rails isn't what it should be. If you're a business offering a premium service to hardworking and some not so hardworking clients then this is the one to have. Better, don't take it from me, have a quick drive around the vicinity of Heathrow International and see for yourself where the smart money goes.
Private user? Think very seriously about what deals can be had on the arguably cooler Transporter, and then give the options list on the Merc a thorough going over. It's much more usable as a 'car' now, but my goodness it's expensive.
As a third option buy a used postal van. You'll fail to hear the kids complaining over the noisy, smelly, diesel engine and have plenty of change to spend on a holiday, a new kitchen, and a garaged Lotus Elise.
Better yet, buy an old Mazda Bongo Friendee, be totally happy you've bought a van with one of the stoopedest names in all of history, add AA cover and then have all of the above.

Job.
Done.
@autoeclectic