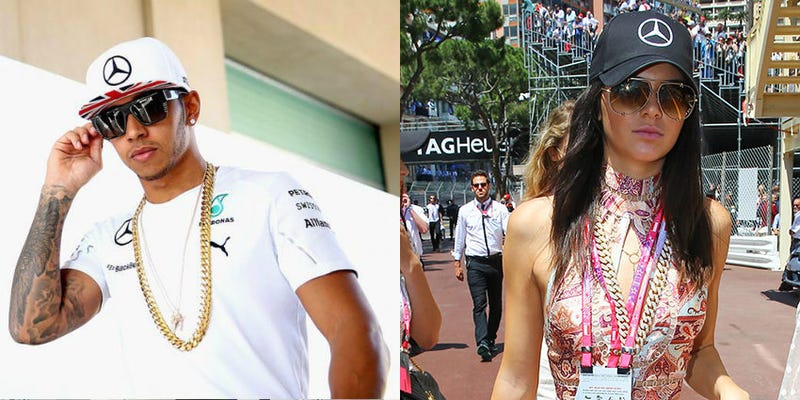 In what I'm sure all of you will find to be extremely important news, Kendall Jenner was spotted in Monaco wearing a Mercedes hat and Lewis Hamilton's not-particularly-oversized-if-you're-a-rapper diamond-encrusted gold chain.
I know you really want to know more about possible reasons that Kendall Jenner was wearing what appeared to be Lewis Hamilton's jewelry, so here is a quote from a supposed "insider" talking about what Kendall Jenner's mom/manager/momager Kris Jenner feels about it:
"She really wants Kendall to date him. Lewis and Kris have become friendly in recent months and she thinks he's perfect for her daughter."
The source also adds,
"Kendall usually goes for bad boys like Chris Brown and Justin Bieber so Lewis could be a good influence on her."
There you have it folks: Lewis Hamilton is potentially a better influence than bad boys like Chris Brown and Justin Bieber. Because with Lewis Hamilton, Kendall can do things like hang out on a yacht.
"Hey Kendall, take a picture of my ass in this wetsuit. How does my pose look?"
"Much better."
If this turns into a long-term relationship, I'm sure we can look forward to an infinite number of shots of Kendall Jenner wearing a headset in the Mercedes garage during F1 coverage.