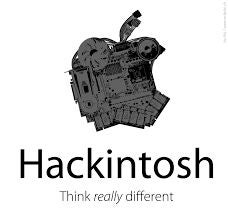 Although it wasn't how I planned the last day of my weekend, I'm glad I got this project out of the way. I didn't get a chance to cook, vacuum or do laundry, so I hope my co-workers don't mind me hosing myself down with Febreze for a few more days.
Today I upgraded the trusty old Hackintosh to the latest version of MacOS, High Sierra 10.13.5. Even though I was perfectly happy using El Capitan, I wouldn't be able to upgrade to a better video card than a GTX 980 Ti, and whilst the prices are falling after the spike caused by cryptocurrency miners, they're still not low enough considering the age of the card. Now I can use pretty much anything, which means I could even buy new if I wanted to. It took some effort, more than I expected, but I finally drove 15 miles home to get my hard drive cloning device, and just made a copy of a working OS install. From now on I'll make sure to always take this device with me whenever I do one of these silly projects.
I bought an older Dell OptiPlex 760 for $45 today, not because I wanted this dinosaur of a computer, but because a Samsung 256GB SSD was included at that price. Kind of hard to beat that kind of deal, and that drive is now the boot drive on the Hackintosh. For the purposes I have in mind for the Dell, a conventional hard drive will be sufficient, if it even needs one. You never know what you'll find on CL, and so far I've managed to keep from being killed by potential sellers...