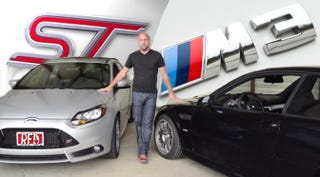 You have $25,000 to buy a car but you want something fun with a little bit of room and it needs to be fairly reliable. If that isn't you, it was likely you at one point, or you have a friend with this same question. If you've spent much time online, you'll know the Ford's new Focus ST and BMW's E46 M3 are two of the go-to recommendations for people with the $25K question.
Read the full article here. It's okay, the link opens in a new window.
William Byrd, or "thedriver" as you Opponauts may know him, is an automotive writer and Editor-in-Chief of Right Foot Down. Based in Maryland, he has had a long history of founding failed automotive sites and spending way too much time on car forums. He has owned "too many Mustangs" according to Josh and has a fetish for RWD V8s. He spent most of his 20s on tracks in the mid-atlantic and killing cones in parking lots and has even taught at a teen performance driving school.