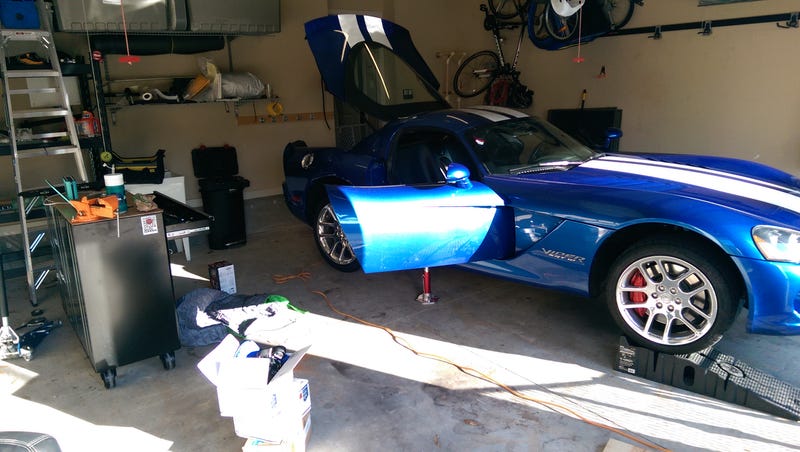 I promised an update after the suspension install, and here it is. I decided to replace the leaking stock suspension with the MCS 2 way Remote Adjustable Coilovers, while I was replacing the parts I also ordered adjustable sway bar end links, new sway bar bushings, and rear toe link supports.
All the parts arrived at the door, and I was a kid in a candy store. Everything I bought was here and now it was time to install them! After 5 minutes of euphoria, reality hit. I had no idea how to install any of these parts. I had a ton of theoretical knowledge from the forums, but I've never embarked on a project this large all by myself.
I was discouraged and decided to have a shop install it. I went around town and was quoted $1,000 for everything including the alignment afterwards. I almost pulled the trigger, but I sat down and called Woodhouse Dodge who sold me all the parts. Mark calmed me down, and that night talked me through building the coilovers. I'm not sure if he wanted to talk to me at the dinner table with his family, but he did. I've never experienced that level of customer service before. I put the 4 coil overs together and began to think this whole project would be doable.
The next morning I drove to a self serve auto body shop and got to work. The Viper went up on jack stands, off came wheels, fender liners, rear diffusers, and under trays. She was sitting naked and ready for the current suspension to come off. Everything went pretty smoothly. The only issue I had was the pressure fittings on the the sway bar end links that went into the A-arm. I decided to wait because I could get that done in my garage and the shop closes at 7PM. I finished up day one and headed back to my house.
Back up on blocks, wheels off, fender liners pulled again, and time to get the install exactly how I wanted it. I had to use a propane torch and an air hammer to get the OEM end links off, but after that it was smooth sailing. After all the new parts were in and torqued down I had to finish running the remote lines and secure the remotes where I wanted them. This was time consuming, but I'm convinced if I had a shop do this they would not have taken the time to make it exactly how I wanted it. It is helpful I have a lot of tools, and the auto shop had every single tool I needed.
Overall, the install went well, but it did take 3 days 10 hours each to get everything done how I wanted it. If I had help I think this could be a day and a half job, and now with a little bit of experience I'm sure of it. I wasn't faced with any seized bolts or major delays, which was a god send. I can tell you from driving the Viper without an alignment the suspension is 100X better than before. The car feels so much more planted and body roll is completely eliminated. I can't wait to get this setup on the track. Expect more updates to come.