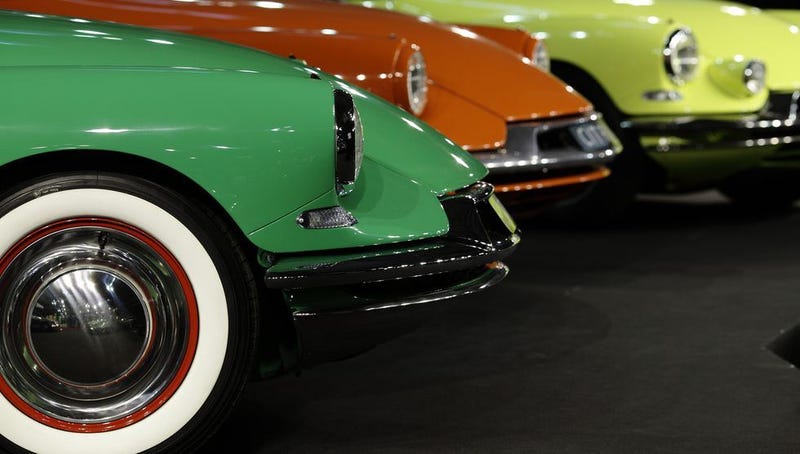 Sometimes as I drive along on the French motorway, I come to the rather depressing conclusion that France has for the most part abandoned all notion that having fun while driving was a thing and that moving from A to B isn't the only thing a car can do for you. But some of us haven't given in to the beigeness.
Every year, such people meet en masse at Le Mans, and every year I'm astonished to see that so many people here still care about the decadence of speed and noise.
And it looks like this year, for once, France will be an absolute paradise for us jalop-minded people. Just have a look at what 2016 has in its French stores:
February 3-7: Rétromobile
The annual classic car salon looks to be packing some awesome stuff this year, with dedicated exhibitions for Bugatti and Aston Martin as well as the ACO. There's also, as always, a massive auction with cars like a 250GT SWB, an Aston DB2/4, and so on. If it's anything like the previous years, most of these should be on display as well.
April 23: Paris Formula E ePrix
Watching some of the world's finest racing drivers battle it out in the historic heart of Paris will be quite something. Even if the cars are slow and electric, I personally can't wait to be there. It feels a bit weird to think of so many ex-F1 drivers racing so close to home!
June 18-19: 24 Hours of Le Mans
credit: La Revue Automobile

Le Mans is obviously the most important events of the year. It's the greatest race in the world, after all! And of course, this year we get to see the new Ford GT race car fighting the new Ferrari 488GTE. And hopefully the battle at the front stays as close as it was in 2015.
July 8-10: Le Mans Classic
This is probably my favorite event of the year, along with the 24 Hours. 250 GTOs, Matras, 1920s Bentleys, GT40s, and many more cars from all eras racing for 24 hours on the full layout. And the sounds. Oh boy, the sounds.
But it only comes up once every two years, so I'll have to make the most out of it!
September 4: Chantilly Arts & Elegance
credit: Richard Mille

The finest classics are expected for this relatively new Concours d'Elegance. More than the incredible pieces of automotive history attending the concourse, the magnificent setting of the Chateau de Chantilly and the very enthusiastic car clubs filling the gardens to the brim with beautiful cars make this a truly unforgettable event.
October 1-16: Mondial de l'Automobile
credit: auto-mag
One of the big-ass Euro auto shows, the Mondial de l'Auto, Paris' auto show, comes back this year, and I'm sure it'll have some nice surprises in store, as always. Fingers crossed for a production version of the awesome Peugeot 308 R Hybrid!
It seems that French car enthusiasts came back with a vengeance in 2016. But hey, I'm not complaining! For once, France will be a very good place to be an opponaut. I'll try to attend every event listed here, and I'll do my best to come back with some pictures.
top image credit: Rétromobile