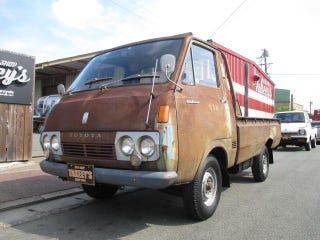 I'm not quite sure how accurate the G00-Net description is, but I found a 1969 HiAce Truck.

The more I look at this style of truck, the more I like it. It's pretty much all that I would need in a truck on a regular basis. I also think the proportions look great; a short single cab with a long bed.

This one has the 1.3L 3P, producing 65 hp and 75 ft-lbs of torque. It does only weigh ~2,500 lbs (this example, probably less)

You could get later models with the 16-R. I wonder if a 22R-E would fit in here?

The interior needs some work, and it's a bit pricey at over $5,000. It could probably also use some POR-15.

Find it here.