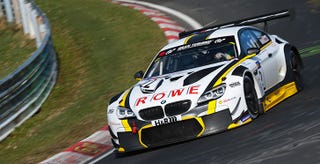 Tomorrow morning a friend and I will set off to the Nürburgring to watch a VLN 6 hour race, the ROWE 6 Stunden ADAC Ruhr-Pokal-Rennen to be precise. I'm quite stoked since I've never been to an endurance race or the Nürburgring, I'm sure the combination of those must be great.
Are any other Europpos going?
Also does any of you have tips for nice viewing spots? I've made a list of corners I want to go to already, but I might have missed some. The ones on my list are:

Hatzenbach
Adenauerforst
Breidscheid
Wehrseifen
Bergwerk
Brünnchen
From Brünnchen a lot of other points like Hohe-Acht, Karussel, Steilstrecken kurve and Wippermann can be reached by foot, but we're not yet sure which ones of those we are going to visit.
I will probably do a write-up/pic-dump once we are back.