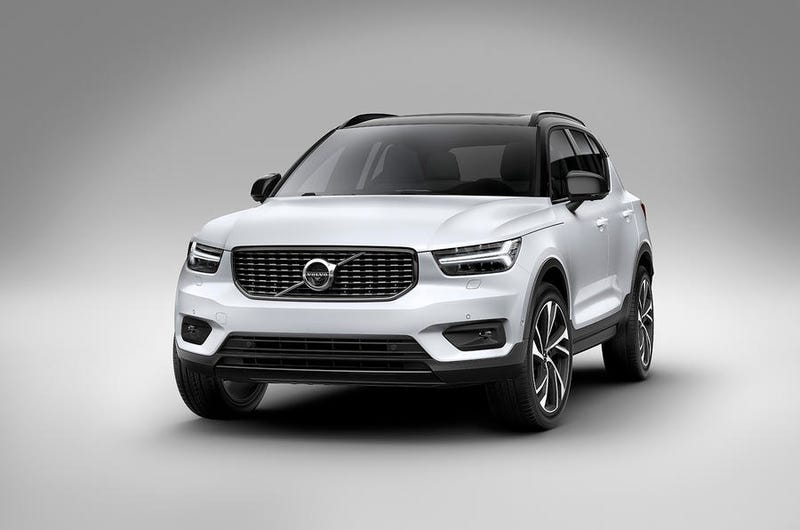 Sorry. I just think thats the reality of it. You go on the site and everything, even the photos have young people in it. They use phrases like "confidently urban" and "designed for you". It bugs me because automakers have a history of not getting us. And no Millennial outside of Jalopnik and other car sites is checking for a Volvo. Some dont even know what a Volvo is. But I bulit and priced it since its up.
It starts at $35,200 for the T5 like the article earlier stated. Every metallic color is a $600 option. If you want a Mini/Ford Flex style white contrast roof, thats $300. Every wheel option, and there are 3, are $800. There are 4 interior leather color choices: blonde, amber, charcoal and red. Luckily they dont cost extra. There are 5 option packages:
Premium which is $1400 and includes Intellisafe Assist (Pilot Assist Adaptive Cruise Control),Power Front Passenger Seat,Storage Box With Lid Under Driver Seat Cushion, Power Child Locks (Rear Doors),Heated Washer Nozzles ,Foldable Cargo Floor Storage / Grocery Bags, 2-Zone Climate Control + CleanZone (which is an air filter system that gives clean air into the cabin)+ Cooled Glove Box HomeLink™ + Compass In Inner Rear View Mirror, Inductive Charging For Smart Phone,Keyless Entry w/ Hands-free Tailgate Opening, Power Folding Rear Backrest From Tailgate Opening + Power Headrests Interior High Level Illumination
Vision which is $1100 includes Auto Dimming Exterior & Interior Mirrors,Park Assist Pilot,Front and Rear Park Assist,Power Retractable Rear View Mirrors,Blind Spot Information System and Cross Traffic Alert
Advanced, which requires the aforementioned Vision package (and Im not sure why) and is $995, includes Visual Park Assist + 360° Camera,Active Bending Lights,Headlight High Pressure Cleaning,LED Front Fog Lights with Cornering Function
Heated seats and heated wheel package which includes just that and is $750. I didn't include this package in my build because California.
And finally the Multimedia Package which is $1375 and include Harmon Kardon premium sound system and Volvo's Sensus Navigation Pro nav system, which honestly wouldn't get used much because of my phone. But sadly to get the sound system you have to get this so I included it in my build.
So far with all those packages except the heated wheel and seats Im at $42,165. Keep in mind still that this is the base T5.
Options wise, there are 6:
White mirror caps, which require the white roof. I didn't add this because I think that would be too much with the already white roof. No price on this.
A charcoal headliner which is $200. I tried to add this to contrast with the red seats but it wont let you get that with the red seats. It makes no sense.
The keyless entry with the popular thing now that Ford started, the hands free tailgate that you open with your foot. It was already included with one of the above option packages.
Laminated panoramic glass roof which is $1200.
And the last 2 options are Volvo prepaid maintenance plans and Service contracts.
With everything, total for this base model T5 with some of the above options is $43,365. Tell me how many young people you know (aside from yourself) that can afford that.
The R Desgin starts at $37,700. One of the first differences I see option wise are the availability of only one wheel option: an $800 20in design. The second difference with the R Design is that there is only one seat upholstery option: a good looking suede like charcoal nubuck leather. Add to that for $100 Lava (an orange almost rust like color in this instance) carpet, tunnel console and door inserts. It looks good. The R also gets what Volvo calls cutting edge aluminum inlays on the dash and an R design wheel and gearshift.
Weirdly option package wise it has the same packages expect Multimedia which is its own stand alone option for the Harmon Kardon for $800. Picking the $900 premium package requires that you add both the advanced and vision. Adding the sound system and the glass roof, an R Design XC40 fully loaded will set you back $44,590. Not bad, but not cheap. What do you guys think of the pricing?